China denies fishermen poaching in S.Korea waters
2012-08-29 02:58:51 GMT
2012-08-29 10:58:51(Beijing Time)
SINA.com
Two Chinese fishing boats are seen before sinking off South Korea's southern island of Jeju due to a raging typhoon Tuesday.(Xinhua photo)(Xinhua photo)
By Mei Jingya, Sina English
In response to South Korea's local media reports that Chinese fishermen were operating in S.Korean territorial waters before their boats capsized, China's consulate in Jeju Island dismissed the charge and said the two fishing boats were simply trying to take shelter in a port on Jeju.
Yonhap news agency said the Chinese ships were sailing toward a port in Seogwipo city when they hit the rock while braving Typhoon Bolaven.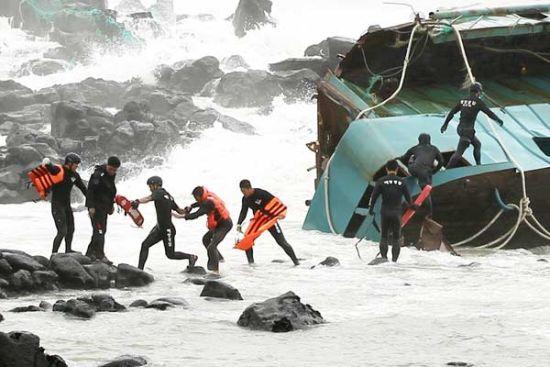 Maritime Police of the Republic of Korea rescue a Chinese fisherman (fourth from left) from a stranded Chinese fishing boat in Seogwipo on Jeju Island on Tuesday.[Reuters]
Tragedy: 5 dead, 18 rescued after Chinese fishing boats sank off S.Korea
A total of 18 people have been rescued, with 5 killed, as two Chinese fishing boats sank off South Korea's southern island of Jeju due to a raging typhoon Tuesday.
Chinese consulate in Jeju island confirmed the report. A total of 33 crew members were aboard the two vessels, when they capsized in waters about 1.8 kilometers from the port of Hwasun in Jeju's Seogwipo around 2:40 a.m. amid gale-force winds and high waves caused by Typhoon Bolaven, officials said.
The accidents became known to authorities as two crew members reported them after coming ashore.
Rescue efforts
After being informed by the ROK about the sinking of the boats, officials from the Chinese consulate-general in Jeju immediately went to the site and worked closely with the ROK to rescue the fishermen, said Chen.
The officials also visited the injured fishermen in the hospital, he added.
China has sent a rescue vessel to Jeju Island to help with the rescue, said Miao Rongbing from the China Maritime Search and Rescue Center.
"China's professional rescue vessel Donghaijiu 115 is heading to Jeju Island, and it is due to arrive in the waters on Wednesday morning," he said.
Miao urged merchant ships in nearby waters to take part in the rescue work, as further rescue efforts are still badly needed.
Related news:
5 dead, 18 rescued after Chinese fishing boats sank off S.Korea
A total of 18 people have been rescued, with 5 killed, as two Chinese fishing boats sank off South Korea's southern island of Jeju due to a raging typhoon Tuesday. Full story
31 Chinese fishermen missing in S. Korea due to typhoon
Two Chinese fishing boats with 34 crew members aboard capsized Tuesday in waters about 1.8 kilometers from South Korea's port of Hwasun in Jeju's Seogwipo, an official from the Chinese Consulate stationed on Jeju has confirmed. Full story
South Korea seizes two Chinese fishing ships
Mokpo's maritime police department of South Korea said on Wednesday afternoon that it has detained 2 Chinese fishing ships for illegal fishing activities in its exclusive economic zone (EEZ), Yonhap news agency reported. Full story
S.Korea seeks death penalty for Chinese fisherman
The Seoul High Court Thursday held the final round of hearings for the second trial of a Chinese fisherman who allegedly stabbed a South Korean law enforcement officer to death during a crackdown on "illegal fishing" last year, with prosecutors still seeking the death penalty or life imprisonment. Full story