Beijing shop prohibits Chinese customers entering
2014-11-26 08:55:14 GMT
2014-11-26 16:55:14(Beijing Time)
SINA English
Wang Ruiqi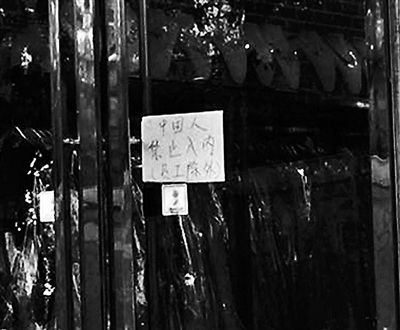 A sign reads "No Chinese entrance allowed" recently was found in the doorway of a foreign trade clothing shop in Beijing. Employees explained this was to avoid plagiarism from other competitors while legal experts see this as discrimination against Chinese consumers, reported Beijing Youth Daily.
The reporter entered the shop in disguise of a consumer but was told that they didn't sell clothes to Chinese nationals.
When asked about the sign in the doorway, the shop assistant explained the reason was to avoid plagiarism from other competitors. Another employee told the reporter that the main reason was "Some Chinese consumers behave so badly."
The employee said the notice has been posted for a week or so, following the incident of Chinese people stealing a foreigner's purse while shopping. The foreigner insisted that the thief and shopkeepers were accomplices and demanded $5000 as compensation.
Besides, the employees claimed that many female customers like to try on clothes without buying them and say harsh words to the salesperson. "We didn't mean to debase our nationals, but sometimes they have gone too far", said the employee.
This is not the first time Yabao Lu (a street that lined with shops doing foreign trade) said "No" to Chinese customers. In 2003, some shops on the street were reported posting "谢绝参观"(lit "No Entrance")in Chinese but "Welcome!" in English. The shops explained this was to avoid plagiarism from competitors, which even lead to bust-ups between sellers and Chinese buyers.
Li Xiandong, professor from China University of Political Science and Law, thinks it is understandable that the sellers refuse their customers in an attempt to protect their own goods, but the sign "No Chinese entrance allowed" is too radical and indicates discrimination. "If they don't allow Chinese to enter, why do they let their Chinese employees enter? This may not be regarded as illegal, but this is extremely improper judging from cultural aspects."
(Wang Ruiqi)