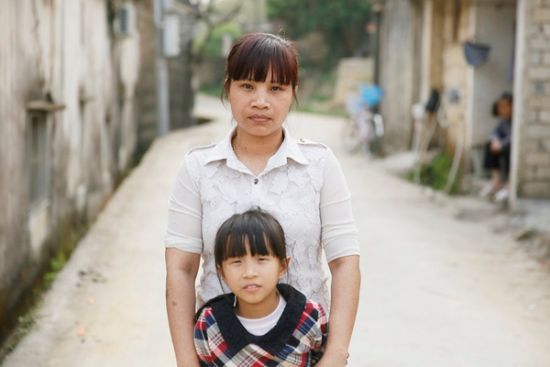 Huang Chunxiang, a Vietnamese bride, and her 9-year old daughter in Raoping county, Chaozhou of South China's Guangdong province on Mar 20, 2015. Huang has neither a Chinese marriage certificate nor a green card, so her daugther also does not have legal identification, which hampers her enrolling in school. [Photo/CFP]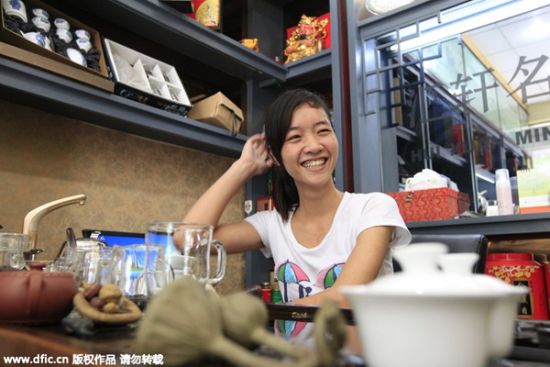 Liang Shichui, a Vietnamese bride, works at her sister's husband's tea shop in Linqi town, Linzhou of Central China's Henan province on July 24, 2013. She cannot seek a job on the open job market, because she has neither a work permit or a green card. [Photo/IC]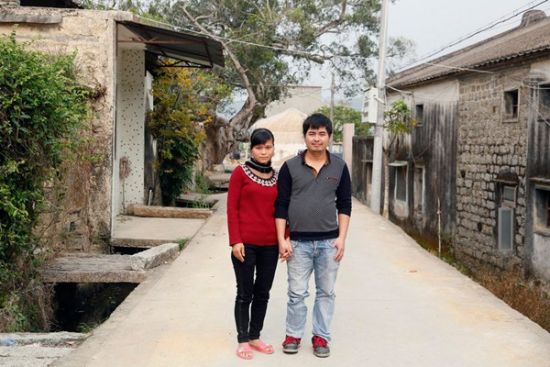 Chen Jinning, a Vietnamese bride, and her 34-year-old husband, Wang Jinwu, a cripple, in Raoping county, Chaozhou of South China's Guangdong province on Mar 20, 2015. [Photo/CFP]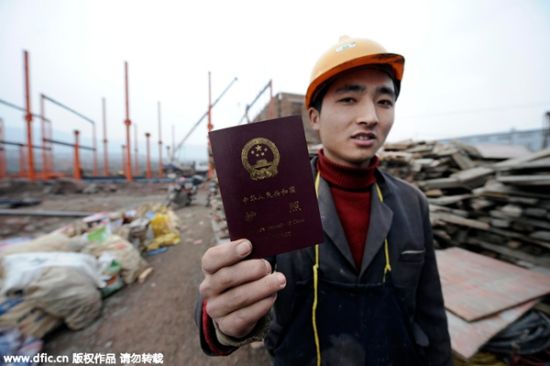 Hong Lin, 22, a migrant construction worker, shows his passport, in Southwest China's Chongqing municipality on Jan 24, 2010. He planned to go to Vietnam to seek a bride himself. [Photo/IC]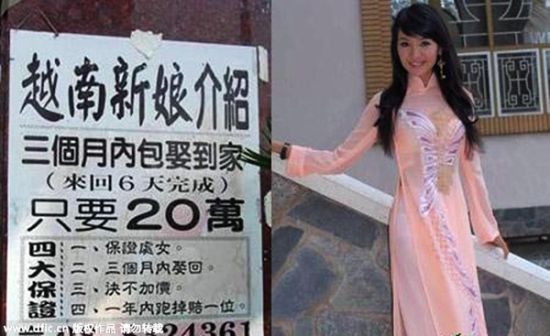 A poster claims to introduce Vietnamese brides and tie the knot in three months for 200,000 yuan ($32,240), on a street in Vietnam. [File Photo/IC]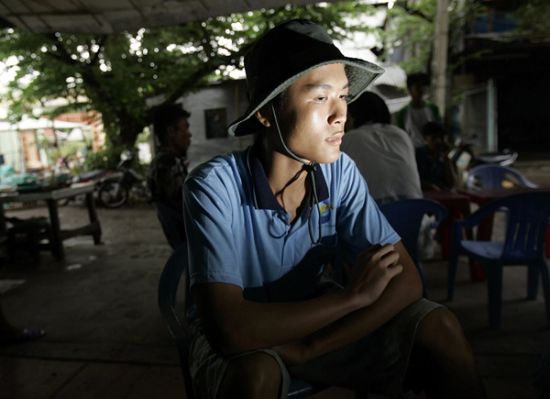 Nguyen Hoang Mong, 19, who is single, talks with the Associated Press in a cafe on Tan Loc Island in Can Tho, Vietnam, Wednesday, May 7, 2008. From the Mekong Delta in Vietnam's south to small rural towns in the north, a growing number of young Vietnamese women are marrying foreigners, mostly from China's Taiwan and South Korea. "If all the girls leave," said Nguyen Hoang Mong, "there won't be anyone left for us. Marriage shouldn't be about money. It should be about love." [Photo/CFP]
Sketching the location of landmarks in Ho Chi Minh City on a piece of paper, Zhou Jiazhen, a Vietnamese woman who married a Chinese man in early 2011, was homesick and raised her head to look into the distance.
Sitting in her Vietnamese specialty shop in Huzhu village, Yanxi town in Zhangzhou, East China's Fujian province, Zhou drew the map at the request of a single man who was planning to leave for Ho Chi Minh City to seek a bride himself.
Zhou was the first Vietnamese bride to move to the village and now there are 145 there. Zhou opened her specialty shop to serve the group early last year and business was good at the time, China News Week reported.
But the good times did not last long. With dozens of Vietnamese brides going missing, Zhou's business went down, which led to an even more grim situation - she may not be able to get a Foreigner Permanent Residence Certificate, better known as the Chinese green card, next year due to lack of funds.
A foreigner, married to a Chinese citizen, can apply for a green card, after they marry and live in the country for 5 years and have a property of their own or a lease agreement.
The green card guarantees a foreigner enjoys social security, including medical insurance, automatic permission to work and the right to enter and leave the country freely.
In Zhou's case, she will meet the time requirement next year, but her family does not have a house or legally rent one. Housing is the reason she has to make money as soon as possible in order to get a Chinese ID card.
"Until the end of 2014 the number of Vietnamese brides in Zhangzhou exceeded 2,000. They often ask about green card application, which is only approved by the Ministry of Public Security not bureaus at local level," said a member of staff, surnamed Lin, at the Zhangzhou Public Security Bureau.
"Until now no more than 10 foreigners have acquired a green card in Zhangzhou," said Lin.
The process of applying is difficult. According to a Xinhua report last year, more than 4,700 foreigners managed to get green cards by 2011, a small number compared to the 600,000 foreign inhabitants.
Zhou is not the only one facing the dilemma.
Yang Qimei, also from Ho Chi Minh City, married her 42-year-old husband and came to China in May, 2011.
Yang and two other Vietnamese brides found jobs at a local toy factory. Though not having social security, they are satisfied with their salary of more than 2,000 yuan ($323) a month, twice the salary they could earn in Vietnam.
But the job is not stable because of their foreign identity.
"We cannot pay social security for them. If it is noticed by the authority, the factory will be fined," said Zhang Jianhong, owner of the toy factory. "We hired them without knowledge of the policy, but we will not hire any more."
A foreigner is able to work in China on condition that they have a green card or approved permission. To earn permission they have to provide authority with employment evidence in related industries or a diploma of corresponding majors.
Most Vietnamese brides like Yang, who neither has a high-level of education nor professional skills, are not qualified to get the work permission. Theoretically, they cannot work to support themselves until getting a green card.
A profile of 20 interviewed foreign marriage families in Huzhu village shows that most lead a meager life, mainly because the condition of the husband is far from good.
The four characteristics of local men who marry Vietnamese women, are poor, dull, old or disabled, said Yang Jinrong, a worker with the publicity department of Changtai county, Zhangzhou, who participated in a report of local Vietnanese brides.
Yang Qimei's husband is a typical poor man, 42, who crams his big family, including two brothers, into a one-room thatched house.
If Yang Qimei stopped earning a salary the family would be reduced to a more miserable state.
Except for smuggled or fake Vietnamese brides, other missing brides experienced a far more complicated situation than revealed by reports, which largely focus on the plight of Chinese men rather than on the suffering of their brides.
"Research shows that there are cases where Chinese men defrauded Vietnamese brides, but it is largely ignored," said Wu Yanhua, a PhD candidate majoring sociology at Xiamen University.
Due to the great distance involved and limited dating time, Vietnamese brides may be given misleading information," Wu added.
Among 20 interviewed Vietnamese brides, all underwent feelings of regret, fear and dissatisfaction the moment they entered their new home in China. They all quarreled with their husbands.
Besides the huge gap between expectation and reality, difficulty in getting a Chinese green card and the substantial growth in the visa fee, which reached 800 yuan ($129) last year from 168 yuan, the trend of Vietnamese women entering China for marriage has withered.
According to statistics provided by the Civil Affairs Department of Fujian province, the number of Vietnamese women entering Yanxi town through marriage last year was zero.