Portugal's PM meets senior Chinese official on bilateral cooperation
2018-05-20 01:50:44 GMT
2018-05-20 09:50:44(Beijing Time)
Xinhua English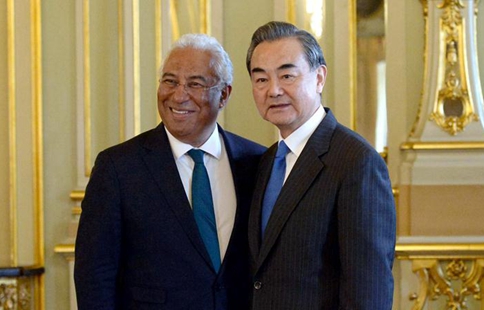 Portuguese Prime Minister Antonio Costa (L) meets with Chinese State Councilor and Foreign Minister Wang Yi in Lisbon, Portugal, May 18, 2018. (Xinhua/Zhang Liyun)
LISBON, May 19 (Xinhua) -- Portuguese Prime Minister Antonio Costa met here Friday with visiting Chinese State Councilor and Foreign Minister Wang Yi.
During their meeting, Costa said Portugal and China enjoy close political relations, high level of mutual trust and fruitful cooperation in economy and trade, energy, culture and education, setting an example of cooperation for countries worldwide.
Portugal hopes to promote the relationship between the two countries to a new high by defining key points of the bilateral cooperation in the future, he said.
Lisbon attaches great importance to China and sees it as a preferable partnership for cooperation, Costa said, adding that Portugal speaks highly of the China-proposed Belt and Road Initiative and the important role the Asian country has played in major international issues.
Costa said that Portugal is willing to take its own advantage and join China in expanding the third-party markets in Latin America and Africa and start cooperation with China in ocean area.
The prime minister also expressed his hopes that both sides can further strengthen their communication and cooperation on multilateral occasions.
For his part, Wang said China sees Portugal as a reliable friend and thinks highly of its constructive role in promoting a healthy development in the China-Europe relationship.
Wang said next year marks the 40th anniversary of the establishment of diplomatic relations between China and Portugal, adding that China is willing to have a closer exchange with Portugal in order to lay a more solid foundation for the future development of bilateral relations.
Wang also said that China appreciates Portugal's support for the Belt and Road Initiative, adding that Portugal is a natural partner of China for the joint construction under the initiative as the European country locates where the Silk Road Economic Belt and the 21st Century Maritime Silk Road meet.
Wang said China is highly appreciative over Portugal's favorable policy towards Chinese investment and is willing to encourage more Chinese businesses to invest in Portugal.
The Chinese official added that he hoped Portugal will continue to play an active and constructive role in promoting the development of relations between China and Europe.