Xi says China to enhance mutually beneficial cooperation with Nepal
2018-06-21 00:45:27 GMT
2018-06-21 08:45:27(Beijing Time)
Xinhua English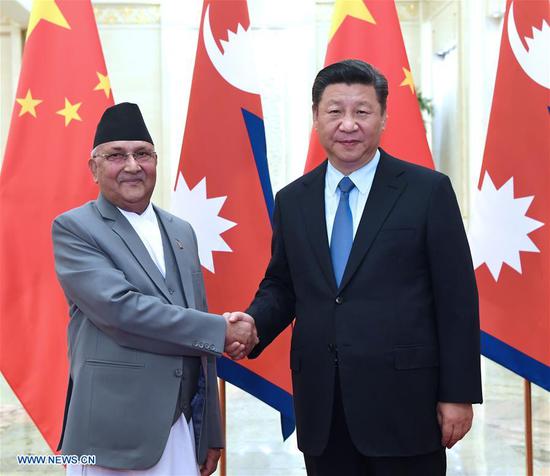 Chinese President Xi Jinping meets with Nepal's Prime Minister K.P. Sharma Oli at the Great Hall of the People in Beijing, capital of China, June 20, 2018. (Xinhua/Rao Aimin)
BEIJING, June 20 (Xinhua) -- China stands ready to strengthen cooperation with Nepal in infrastructure connectivity, post-disaster reconstruction, trade and investment under the framework of the Belt and Road Initiative, President Xi Jinping said Wednesday.
Xi made the remarks while meeting with Nepal's Prime Minister K.P. Sharma Oli.
"China and Nepal are friendly neighbors sharing weal and woe," Xi said. "Since the establishment of diplomatic ties between China and Nepal, the two countries have always carried out mutually beneficial cooperation on the basis of the 'Five Principles of Peaceful Coexistence.'"
Xi said China appreciates Nepal's firm adherence to the one-China policy and will, as always, support Nepal's efforts to safeguard national independence, sovereignty and territorial integrity and support Nepal's independent choice of social system and development path suited to its national conditions.
He expressed hope that Nepal would achieve its development goals at an early date.
China-Nepal relations are facing new opportunities for development, said the president, noting that the two sides should maintain close high-level exchanges, strengthen strategic communications, continue to adhere to the Five Principles of Peaceful Coexistence, respect and accommodate each other's core interests and concerns, and consolidate the political foundation of their relations.
China is willing to work with Nepal to build an all-round and mutually beneficial pattern for cooperation, Xi said.
He said the two sides should strengthen cultural exchanges and create new highlights in Sino-Nepalese humanities cooperation to build a solid foundation for bilateral friendship.
He also called for strengthened cooperation on law enforcement capacity-building, so that the two countries could jointly fight against transnational crimes and safeguard their common security.
"China and Nepal should strengthen communication and coordination on major international issues," Xi said.
Oli said Nepal and China enjoyed a time-honored friendship and their relationship served as a model for relations between countries with different systems and sizes.
Nepal admires China's development achievements and highly appraises China's important and positive role in international affairs as well as China's neighborhood diplomacy featuring amity, sincerity, mutual benefit and inclusiveness, Oli said.
He thanked China for its support to Nepal's national transformation and development, saying that Nepal firmly adheres to the one-China policy and will never allow any forces to engage in any anti-China activities on Nepalese territory.
Nepal is willing to expand cooperation with China under the new situation, Oli said, adding the Nepalese side highly values President Xi's proposition on building a community of shared future for mankind and is willing to actively participate in the Belt and Road construction.