China offers alternative and successful development model: Australian media
2021-06-11 04:53:40 GMT
2021-06-11 12:53:40(Beijing Time)
Xinhua English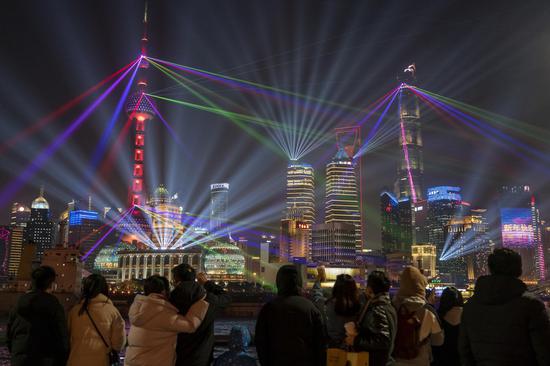 People enjoy the light show at the Bund in east China's Shanghai, Jan. 2, 2021. (Xinhua/Wang Xiang)
CANBERRA, June 10 (Xinhua) -- China offers "an alternative" and "increasingly successful development model" which threatens that euphemism for the global hegemony of the United States, the rules-based global order, an opinion piece recently commented.
"Our alliance with the United States is bringing us closer to war and now is the time to look to alternatives," the article published in the journal Independent Australia, has warned, calling for better relations of the Australian government with China.
China constitutes a threat to the United States not because of what it does, but of what it is, according to the opinion piece.
"At its root, this is what the tensions between the United States and China boil down to. China is not the aggressor. China's lifting the best part of a billion people out of poverty has been achieved by avoiding military conflict," it wrote.
"Conversely, many millions of Americans have been forced into poverty as the war machine of the United States Government continues its many decades-long military interventionisms across the planet," it added.