A man pays his respects at the tribute area at Singapore General Hospital following the death of former prime minister Lee Kuan Yew on Monday. Photo: AFP
Death of 1st Singapore PM loss for intl community: Xi
Chinese President Xi Jinping on Monday sent condolences to Singapore after the country's founding father Lee Kuan Yew died in the early hours of the morning at the age of 91.
The statesman, who was prime minister of the city-state for 31 years, had been hospitalized and on life support for several weeks after contracting pneumonia. The Singaporean government declared a period of national mourning from Monday until Sunday.
In his message, Xi extended condolences to Lee's family, and said Lee's passing is as much a loss for the international community as it is for Singapore, the Xinhua News Agency reported Monday.
Lee and the older generation of Chinese leaders jointly set the direction of China-Singapore ties, said Xi, adding that Lee made great contributions to enhancing the friendship of the two peoples and broadening bilateral cooperation.
China is willing to work with Singapore to continue the traditional friendship between the two countries, consolidate good-neighborly ties as well as deepen mutually beneficial cooperation so as to benefit the two countries and peoples, said Xi.
Premier Li Keqiang, Vice Premier Zhang Gaoli and top legislator Zhang Dejiang also expressed their condolences, a practice rarely seen in Chinese diplomatic history.
As a universally recognized strategist and statesman, Singapore's founding father, as well as an important founder of the Association of Southeast Asian Nations, Lee Kuan Yew made an extraordinary contribution to peace and development in the region, Li Keqiang said Monday.
"Lee Kuan Yew is a uniquely influential statesman in Asia and a strategist embodying oriental values and international vision. He is the builder and founder of China-Singapore relations and has long been committed to promoting mutually beneficial cooperation between the two countries, making historic contributions to the establishment and development of China-Singapore relations," China's foreign ministry spokesman Hong Lei said on Monday at a daily press conference.
Chinese leaders will participate in Lee's funeral, Hong said, without giving further details.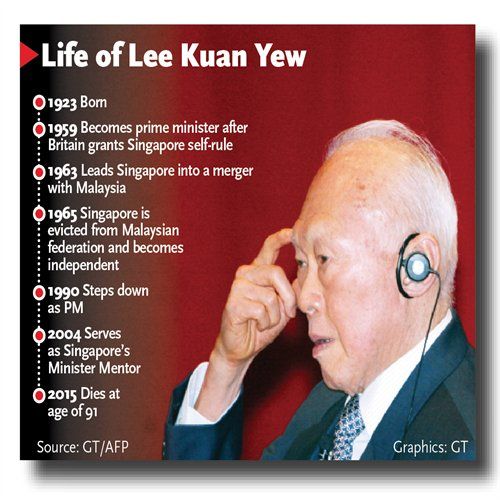 Graphics: Global Times
Dozens of world leaders are expected to travel to the city-state for a state funeral service for Lee at the National University of Singapore on Sunday, Reuters reported.
Lee, a British-educated lawyer, is credited with transforming Singapore from a sleepy port to one of the world's wealthiest nations on a per capita basis with his strong leadership.
He co-founded the ruling People's Action Party and led the new country after separating from Malaysia in 1965. Lee stepped down as prime minister in 1990. His son, Lee Hsien Loong, is Singapore's current prime minister.
As the country mourned, his son said in an emotional TV address that "He [Lee] fought for our independence, built a nation where there was none, and made us proud to be Singaporeans. We won't see another like him," AFP reported.
Lee's legacy is not only domestic, but also in international relations, in particular his contribution in building the foundations for China-Singapore relations, analysts said Monday.
"Lee emphasized pragmatism over ideology in his diplomatic policy which focused on the stability of international society and the interests of Singapore," Oh Ei Sun, a senior research fellow at Nanyang Technology University of Singapore, told the Global Times in a phone interview on Monday.
Oh believes the ties between China and Singapore will continue to progress based on the strong foundation built by Lee under his leadership.
As a mark of respect to Lee, the flags on the Singaporean Embassy in Beijing were flown at half-mast. The embassy is also holding a public commemoration that started Monday and will last until Sunday, The Beijing News reported.
Lee was a fourth-generation Singaporean with Chinese ancestry. He was influenced by traditional Chinese philosophy in his governance and state policy to build a unique development model for Singapore that is independent from Western influence, Deng Yuwen, a Beijing-based commentator on Singapore affairs, told the Global Times Monday.
Lee was known for his profound knowledge of China's development and had offered counsel to Western politicians on Chinese affairs.
Lee had visited China more than 30 times and met with many former Chinese leaders including Mao Zedong, Deng Xiaoping, Jiang Zemin, Hu Jintao as well as Xi.
On several occasions, Lee had said that it was impractical for the international world to impose Western standards and ideology on China, and that China shall not adopt Western-style democracy.