Factories in Rizhao, Shandong province, on Feb 19. [Photo/IC]
1. Environmental Protection law
China's revised Environmental Protection Law came into effect on Jan 1 this year, bringing with it heavier punishments.
The revision, adopted and approved by the National People's Congress on April 24, 2014, is the first revision in 25 years.
It increased the responsibility of local governments to deal with environmental problems and gives them unprecedented power.
Polluters will also be made to pay accumulating fines if they fail to rectify violations, making the revised law stricter than previous versions. In the past, enterprises received a one-off fine.
The policy takes a zero tolerance approach. Local officials may be demoted or sacked for misconduct, including hiding offenses, falsifying data, failing to publicize environmental data, and not giving closure orders to enterprises that illegally discharge pollutants.
Chai Jing, former presenter and journalist with China Central Television, presents a self-funded documentary about smog in Beijing, Feb 28, 2015. [Photo/CFP]
2. Air
China's environment watchdog issued its most comprehensive and toughest plan in July 2013 to control and in some regions reduce air pollution by the year 2017, setting stricter limits on the levels of PM 2.5 particles.
The Air Pollution Prevention and Control Action Plan (2013-17) is backed by 1,700 billion yuan ($277 billion) in total investments from the central government.
The plan specifically targets North China, particularly Beijing, Tianjin and Hebei province. The plan's goal by 2017 is for a 25 percent reduction in air emissions from 2012 levels in that region.
The smog problem has never received so much attention.
In March a privately sponsored documentary on smog, Under the Dome, went viral online in China. It was viewed more than 300 million times within five days.
Ministry of Environment Protection statistics show a big drop in PM 2.5 readings and polluted days in a year since the regulations were put in action. Factories with illegal heavy pollution have been shut down and traffic controls practiced more often. Electric vehicles are promoted r amid the anti-pollution environment. Stations have also been built in more than 160 cities to monitor smog levels.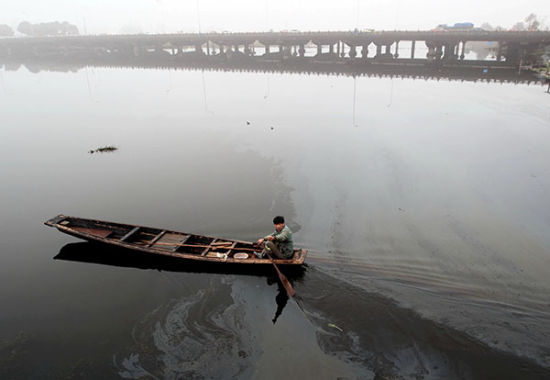 A man rows a boat through an oil slick on a lake in Shaoxing, Zhejiang province, on March 16. Fuel leaking from ships severely contaminates the quality of the water in the lake. [Photo by Li Ruichang/China Daily]
3. Water
China released an Action Plan for Water Pollution Prevention and Control on April 16 this year, with a 2 trillion yuan ($320 billion) package in place, to tackle serious water pollution, aiming to intensify government efforts to reduce emissions of pollutants and to protect drinking water safety .
It said China will see a better water environment with reduced pollution for both surface and groundwater, safer drinking water and an improved coastal environment by 2020.
By 2020, 70 percent of the water quality in the seven major river basins, including the Yangtze and Yellow rivers, will be in the top two quality levels, rising to 75 percent by 2030.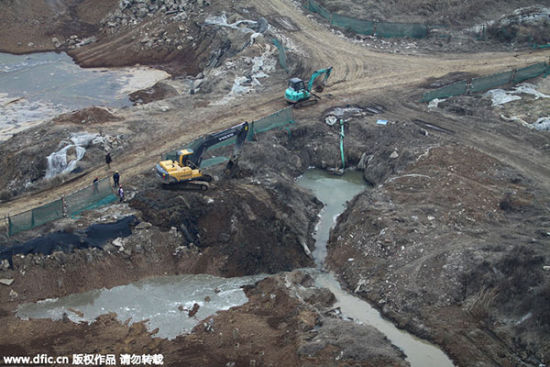 Soil is under restoration where an insecticide factory used to be located in Hanyang, Wuhan, Hubei province on Jan 5, 2013. [Photo/IC]
4. Soil
China is developing an action plan for soil pollution prevention and control, which may be released next year. The Ministry of Environmental Protection is also close to issuing a new soil environmental monitoring standard to replace a 20-year-old outdated version.
The new standard paves the way for the introduction of the long awaited action Plan because it provides an array of technical benchmarks for future law enforcement.
Soil pollution is less likely to be noticed compared to air or water contaminations. But the hidden threat comes with a very high level of destruction to the environment. Pollution through farm chemicals such as pesticides, as well as organic pollutants and heavy metal are endangering human health in many parts of China. The most severe cases of pollution in the country were those caused by industrial emissions that release large amounts of heavy metals including cadmium, arsenic, chromium and lead.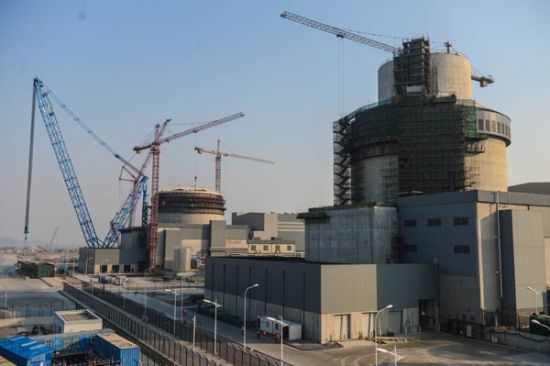 The Sanmen nuclear power plant under construction in Zhejiang province. China has 23 nuclear reactors in operation and 26 under construction. [Photo/Xinhua]
5. Clean energy
China's spending on renewable energy during the current 12th Five-Year Plan (2011-15) will reach 1.8 trillion yuan ($294 billion) in addition to a further 2.3 trillion yuan being spent on energy saving and reducing emissions, according to Xie Zhenhua, then deputy director of the National Development and Reform Commission in 2013.
China vows it will reduce its carbon emissions per unit of GDP by about 40 to 45 percent by 2020 from the 2005 level and raise its non-fossil energy consumption percentage to 15 percent of the primary energy mix.
China retained its global top spot for clean energy investment in 2014, with surging demand especially in both solar and wind. According to The Bloomberg New Energy Finance report, the country's investment in clean energy last year hit a record $89.5 billion, a 32 percent rise on 2013, accounting for about 29 percent of the world's total. By the end of 2014, China had installed 430 million kilowatts in total renewable energy power generation,
In the coming years, China is on track to launch more nuclear power projects, which were suspended following the nuclear power plant disaster in Fukushima, Japan in 2011. The country is also drawing up regulations to better protect the safe use of nuclear energy.
China is constructing the world's biggest wind and hydro projects in terms of installed capacities. As the Central government pledged to curb carbon emissions, a great amount of clean energy is set to fill the void left by plants powered by coal.