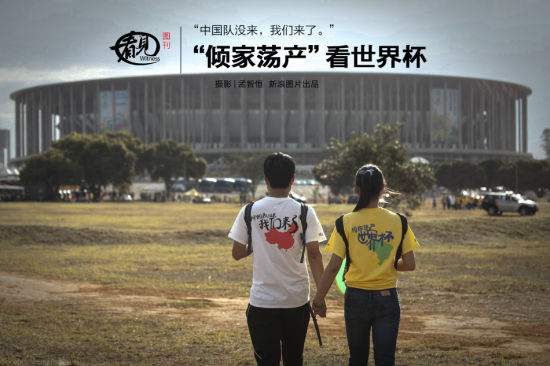 4 pm local time on July 12 in Brasilia, Xiang Chen and Wang Jialing were on their way to the Brasilia National Stadium. In one hour there would be the semifinal between Brazil and Holland. This is the fourth 2014 World Cup match the couple watched in Brazil. They would take a connecting-flight for China and went back to their life and work 24 hours later.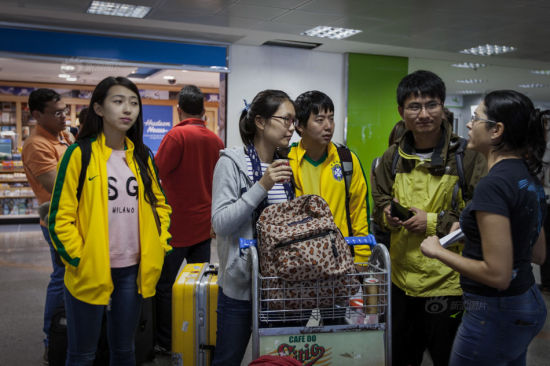 Xiang Chen (R 2) and his wife Wang Jialing (R 4) got acquainted with Zhang Qiao (R 3) and Yingying (R 6) through the online discussion group "Break the bank to watch World Cup." They arrived Brasilia at 9 am July 12 taking the same flight. At the airport, the two couples met with the staff from the hotel that they booked for the night.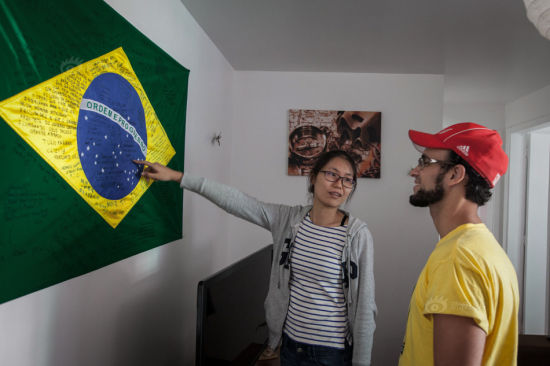 They found the hotel via an Internet site named Airbnb. The fare was 600 yuan ($ 95) per room, with 100 yuan ($ 15) brokerage fee for the site. They prepared small gifts for the hotel runner. Wang also interpreted the message left on the hotel's Brazilian national flag by other Chinese tourists.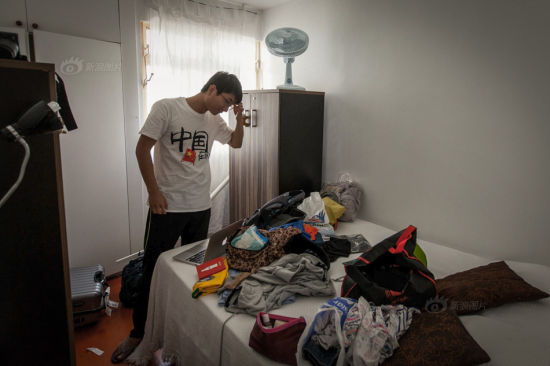 Xiang Chen scratched his head looking at their belongings spreading all over the bed. They've shopped a lot in Brazil, for themselves and also for presents they intended to send to family and friends. They had to buy another large suitcase to bring what they bought back to China.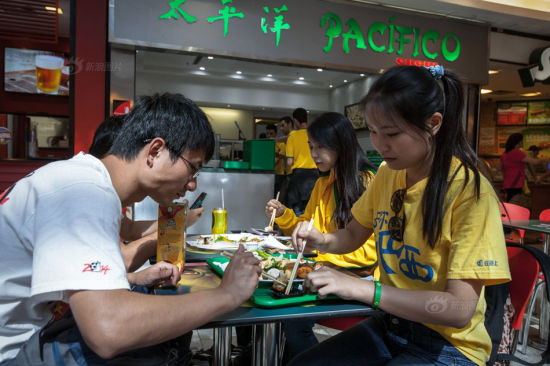 After a short break, the two couples had a "kilo" buffet lunch in a restaurant. With a Chinese name "太平洋", the restaurant sold Brazilian flavored Japanese food. Comparing to local food, the four still preferred oriental cuisine.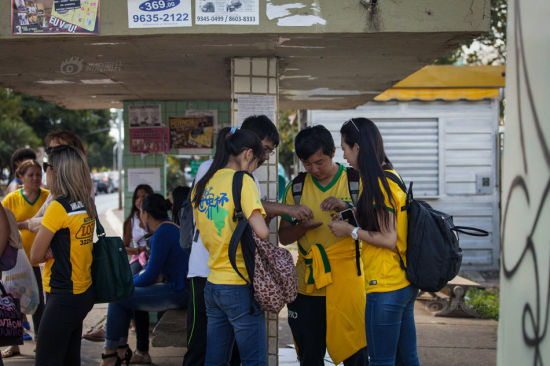 There was still a lot of time before the match began at 5 pm. The two couples brought out changes to take a bus for the Catedral Metropolitana de Brasília (Brasilia Cathedral). The locals were very nice and helpful. They told them which station to get off and made sure they board on the right bus.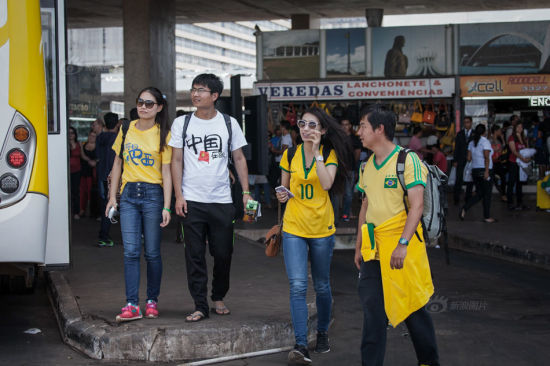 A Brazilian asked to take a group photo with the four tourists on the square before Brasilia Cathedral. Xiang Chen said the locals often asked to take photos with them, and that they were often mistaken for Japanese. Every time he'd explain that they were Chinese, and tell the locals now the Chinese travel further in the world.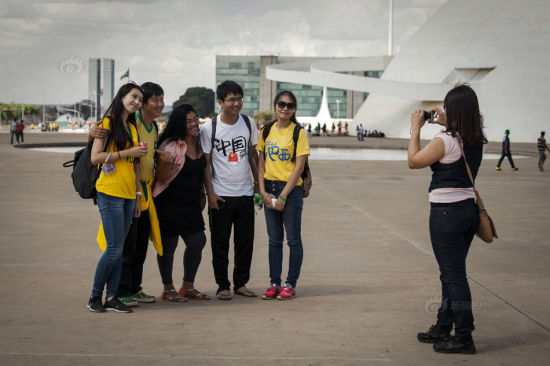 Xiang Chen and his wife sat before the Brasilia Cathedral, enjoying the sun. This is the last station on the couple's honeymoon journey. They'd leave for Shanghai one day later at 4 pm on July 13, one hour before the final match began. They would miss out the final match, but it was for this reason that the couple's flight was as cheap as $ 200 in total.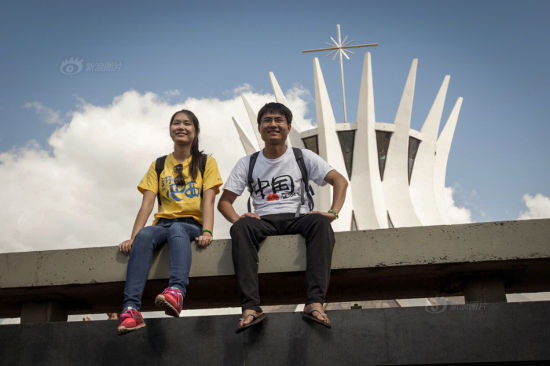 After shopping, they queued outside the National Stadium for the match.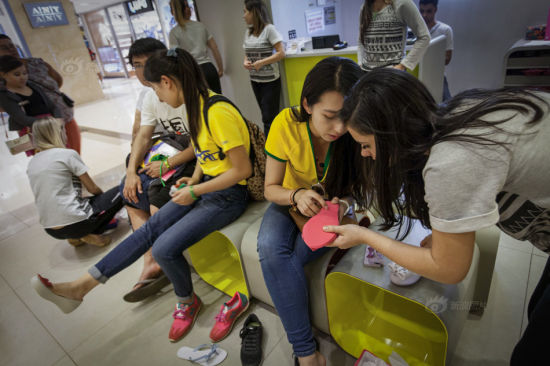 Havaniana and Melissa were among the most distinctive Brazilian brands, both produce shoes. The two couples bought over ten pair of shoes in Melissa.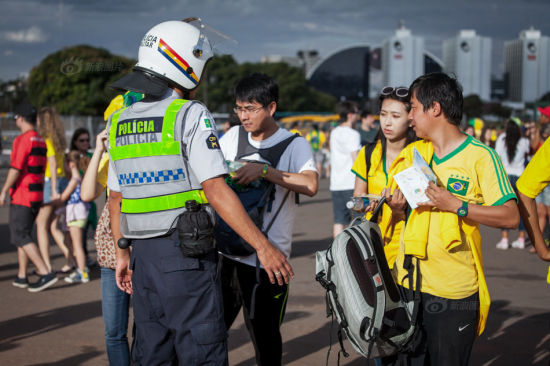 After shopping, they queued outside the National Stadium for the match.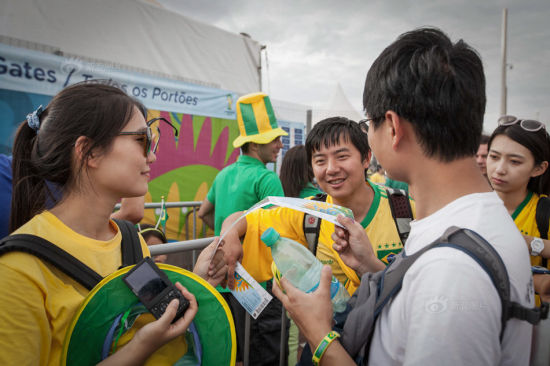 Despite the fact that Brazil encountered a disastrous defeat in the last game, many still came for the match. The two couples checked the information on their tickets. Their tickets were all in the first class with the best view, costing $ 330 per person.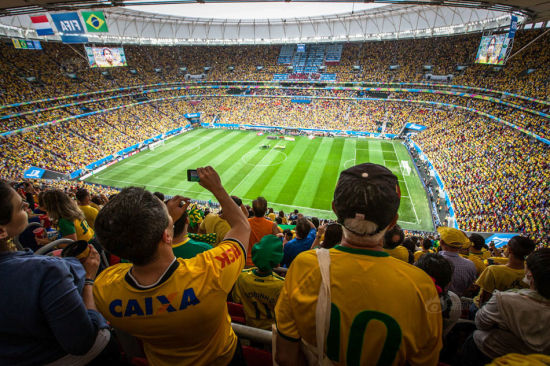 Players of Brazil and Holland walked in. Audiences all over the stadium sang Brazil's national anthem loudly.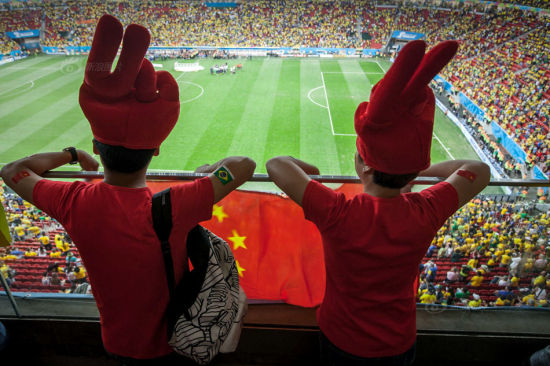 Two people wearing red clothes and Chinese-national-flag-printed decorations caught the eyes of many foreign football fans, who asked to take photos with them.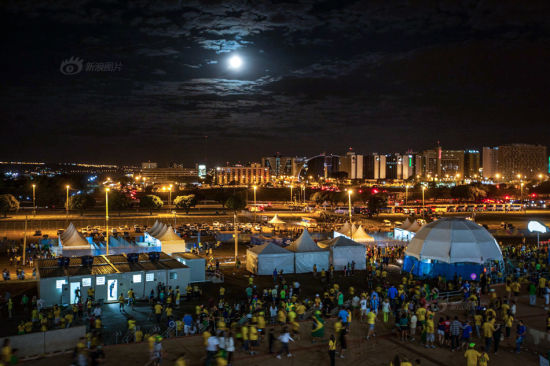 Football fans left the stadium later at 7 pm, distressed with Brazil's 0:3 defeat by Holland.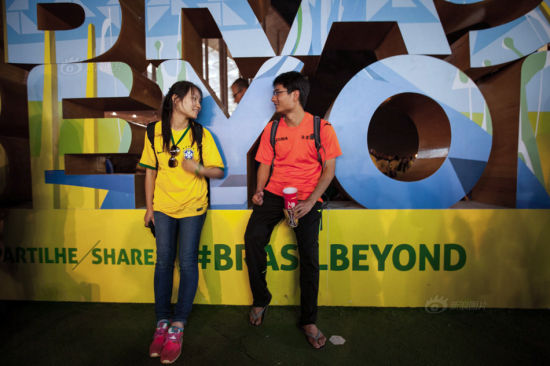 Xiang Chen and Wang Jialing having a break out of National Stadium. Xiang Chen had changed to wear his team jersey of Zhujiajiao football team (for amateurs). Later at 11:45 pm, Zhang Qiao and Yingying would fly for Rio to watch the final match. 
After saying goodbye to Zhang Qiao and Yingying, Xiang Chen and Wang Jialing had their last big meal in Brazil - Barbecue with Guarana and agua de coco, which cost them 290 yuan ($ 46).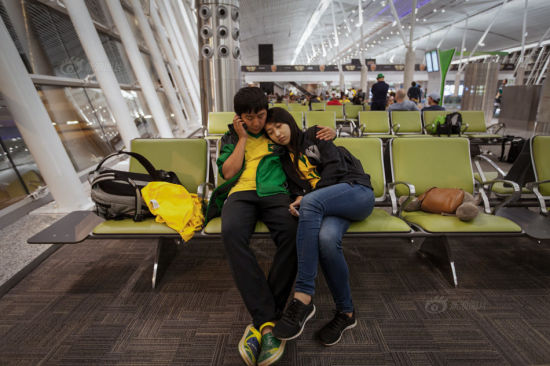 Zhang Qiao and Yingying waited for their flight for Rio de Janeiro at the airport at 11 pm. They planned to sleep at Rio's airport till the next noon after they arrived, then they could check in the hotel and watch the final at Maracana Stadium. Finally, they would go back to China after having a rest in Rio for a few days.  
The 18,801 km distance between Beijing and Rio de Janeiro won't stop many Chinese football fans from heading for Brazil to watch the 2014 World Cup. Sina.com at Brazil met some of the Chinese fans, who came to the tournament together after knowing each other via a group discussion named "Break the bank to watch the World Cup" on line, and asked a few questions about them.
Q: Where are you from? What do you do and what's the main source for your income?
Xiang Chen: I'm Xiang Chen, 29. I got my master's degree from Shanghai Jiao Tong University. Now I've been working as an IT programmer for two years. I write APPs for IOS phones. This is my wife Wang Jialing, 24. She graduated from East China Normal University. She's been working at Bank of Shanghai for almost three years. Our income is our salary. It's really hard to ask for days off from work, and this is our first trip out of Asia.
Zhang Qiao: I'm Zhang Qiao from Beijing. I'm 29. I just got my Ph.D of Advertisement Video-Shooting from Beijing Film Academy. I'm looking for a job now. This is Yingying, 27, from Shandong province. She graduated from the Central Academy of Drama. We got our money basically from the documentaries and advertisements we filmed before. We've done a lot of that.
Q: When did you arrive in Brazil?
Xiang Chen: July, 3.
Zhang Qiao: I've been here since June, 13.
Q: You come just for the football matches?
Xiang Chen: I'm a big fan of football. I love Argentina and Italy (team). I often play football in my spare time. And I'm a player in the Zhujiajiao amateur football team. We just get married, so this is kind of our honey moon trip.
Zhang Qiao: Sure I'm also a big fan, too. The four star limited edition Brazilian jersey that I bought in 1998 can prove it. And I'm a fan of Guo'an (Beijing Guo'an Football Club). So it's definitely for the football matches.
Q: Have you ever watched the World Cup in other places?
Xiang Chen and Zhang Qiao: No
Q: How many matches have you watched in Brazil till now? How many cities have you been? And how many hotels have you been sleeping in?
Xiang Chen: We have watched four matches till now. And we've been to six cities and stayed in 11 hotels, basically one place per day.
Zhang Qiao: Let me think. We're going to watch 10 matches in total, including the final in Rio. We've been to 11 cities. I can't even remember how many hotels we've been in. We stayed in different hotels every day, and sometimes we even slept on the floor of the airport.
Q: How much money have you spent on the trip?
Xiang Chen: A bit more than 90,000 yuan ($ 14,285), of which our flights in Brazil take 19,000 yuan ($ 3015). This is really "breaking the bank" for people who just began to work like us.
Zhang Qiao: I've spent about 200,000 yuan ($ 31,746). The tickets for the final match for both of us cost 60,000 yuan ($ 95, 238).
Q: Will go back to China as soon as the World Cup ends?
Xiang Chen and Zhang Qiao: Yes.
Q: What do you plan to do after going back?
Xiang Chen: I've asked days off from work before I went on the trip, so I'll have go back to work. And we'll hold our wedding in our hometown in November. Then we'll prepare our journey to Italy next year.
Zhang Qiao: I'm looking for a job. I might be working in the Media Group. I'm waiting for an offer currently.
Q: What kind of an organization 'Break the bank to watch the World Cup' is? How do you know the organization? Is there any prerequisites for joining in?
Xiang Chen: It's a discussion group on QQ (China's most popular instant messenger). "Break the bank" is only to josh that the expenses to watch the World Cup is enormous. The group had only four or five members at first, but as the World Cup was getting closer, more joined in. As for the prerequisites, it's just you've got to have a World Cup ticket.
Q: Is it worth coming? Why?
Xiang Chen: Absolutely. It's true that we've met a lot of troubles in the trip, but we also had a lot of fun. Watching the match on the scene is amazing. And I love Rio. We didn't enjoy ourselves to the full this time. We hope to come back and visit Brazil and Argentina again in the future.
Wang Jialing (Xiang's wife): Brazil is a new world to us. It is also our new place to start, since we just get married.
Zhang Qiao: It's definitely worthwhile. We've traveled all over Brazil. Football fans are those who go through the biggest hardships, but they are also the ones who enjoy the greatest pleasure. We got fatigue in Brazil, but we also got the fun and passion of football, which you can't get in any other countries.