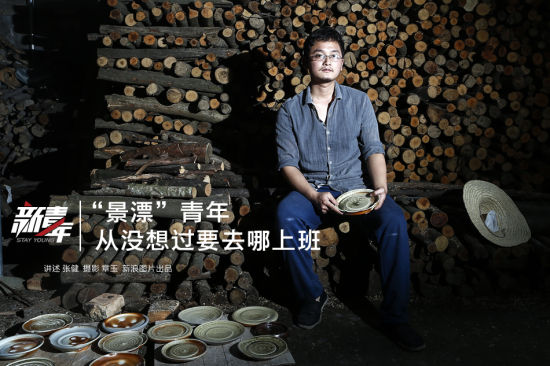 I first came here for an internship during my third year in college. I was drawn immediately by the strong atmosphere of handcraft here. I made up my mind to become a craftsman since then.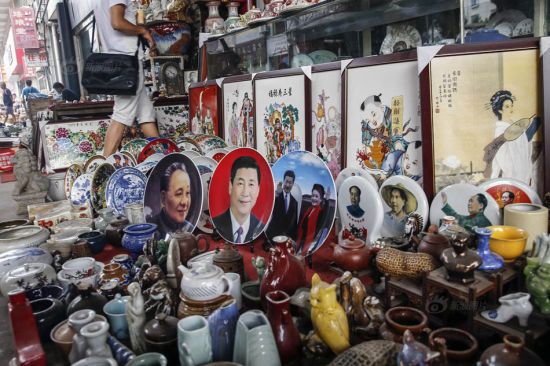 Wood pottery is ceramics produced with burning wood. Originated in China, the craft is mainly practiced in Japan now. Even in Jingdezhen, which has a history of ceramic producing for over a thousand years, wood pottery is considered obsolete and is difficult to find any in the market.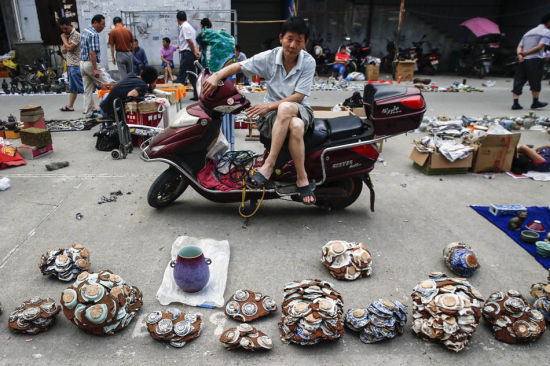 Jingdezhen homes dozens of ceramic markets, selling all ranges of porcelain and pottery products. Photo shows lumps of "unearthed" porcelains on an old morning fair.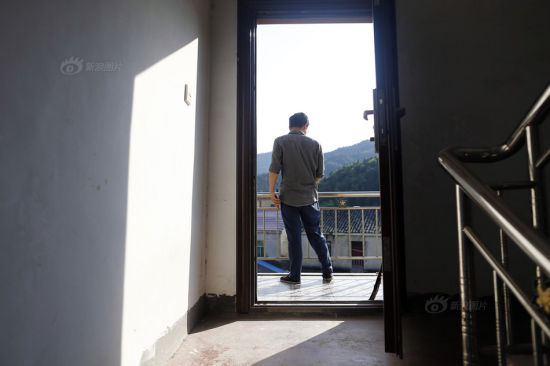 I live in a rented village house in the suburbs of Jingdezhen. I built a kiln in the courtyard so this is also my studio where I work and hone my skills. I've also bought albums of wood pottery works from Japan.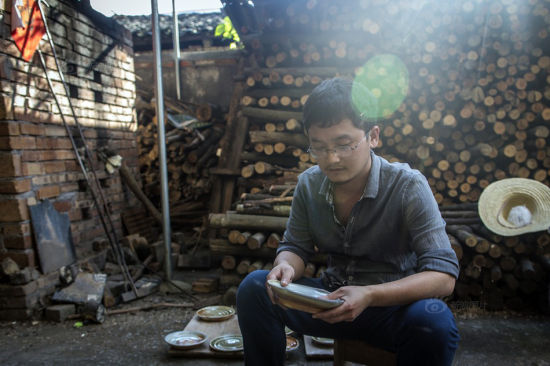 I used my kiln once in a month. Each time it would take several days during which I have to stay up all night.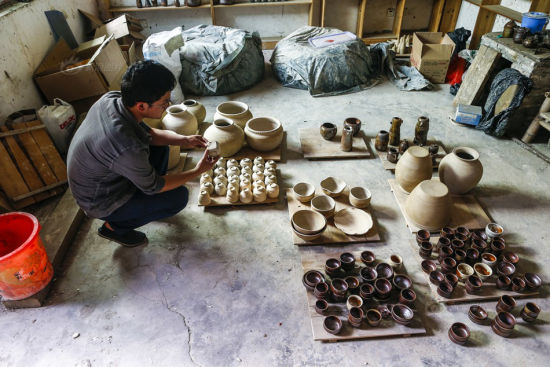 Wood pottery has a nature of austerity. And each hand-made wood pottery product is different from another. I used to make just small ornaments. Now I also produce plates, the kind you would never find in the assembly line by sweatshops in town.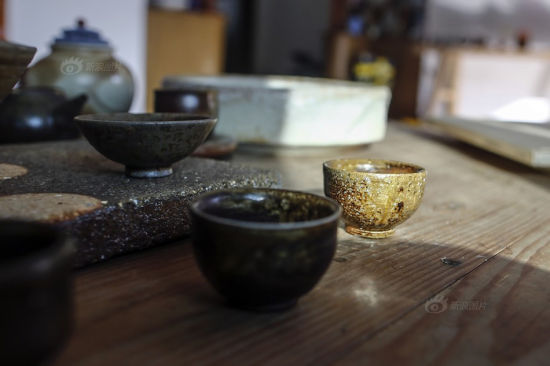 Wood pottery products are not glazed. Its patterns come from dusts left by burning. The dusts landed on the pottery with the smoke and became a natural tint for the work. So the beauty of a wood pottery work is decided not only by the clay, but also by the kiln temperature, the direction and power of the flames and so on. It was created by a fusion of both inside and outside factors.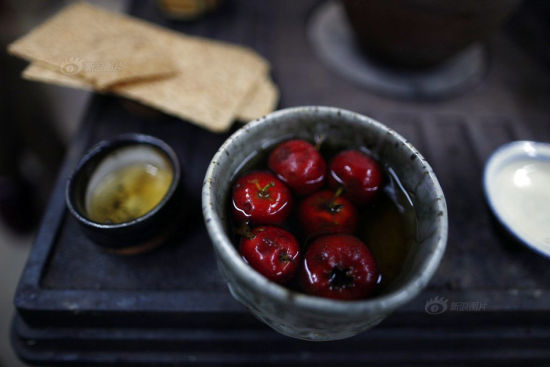 Making wood pottery is like boiling soup. The result can be very different if you just boil it or if you boil it with much thinking and time. Imagination and experience matter, too. Good works are alluring the way delicious cuisine does.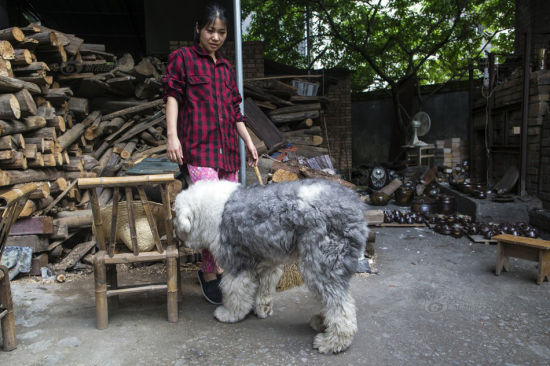 It takes patience and tolerance of loneliness to work with a kiln. Luckily, I am not alone. My girlfriend and I had known each other since high school. She's not an art student and she knows not much about pottery. However, when I decided to establish my career in Jingdezhen, she came with no hesitation. Now even our dog loves the kiln. We have to force him back each time, because the inside of the kiln is too dusty.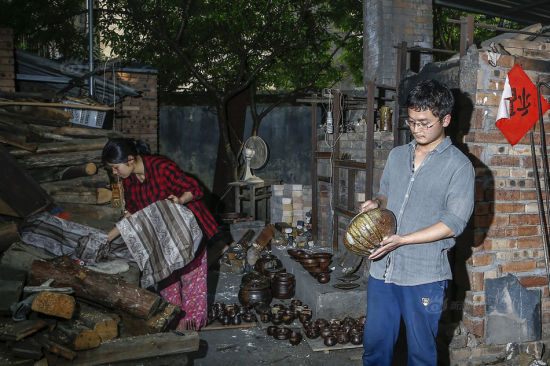 The cost of burning a batch of pottery works is over 10,000 yuan ($1,587). At first I didn't have any customer. And as a craftsman, I knew nothing about selling my works. To solve this problem, my girlfriend asked to help me with marketing. With her efforts, now I not only have stable sales of potter but opened my own brand store, which earns about 20,000 ($3,174) yuan a month.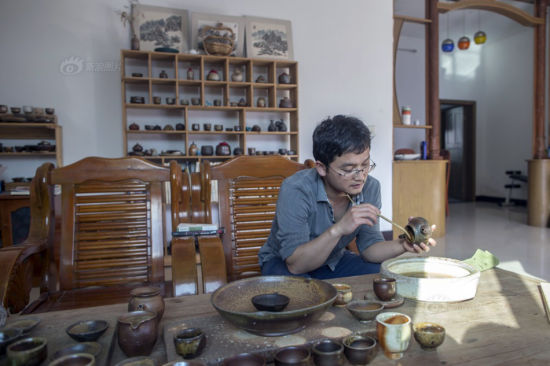 It was tough time, but I miss it a lot, because you tend to produce interesting stuff when you are not thinking about something in particular. Now the number of my client increases, but my creativity sees more limits as well.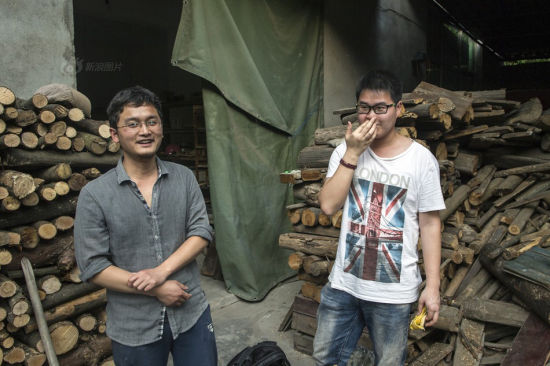 I also have an apprentice in the studio, who's a student at the local ceramic college. I have interns each year. They left after graduation and entered different industries such as architecture and decoration.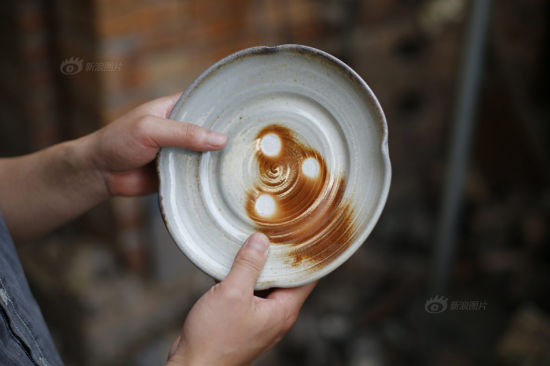 This is one of my early works. It reminds me of the days when I first came here. I had never thought about hunting for a job like many of my classmates did in college. They became art teachers with a stable life and a good income, but that is not what I want. I only want to find something I'm crazy about and stick to it. To take the road less traveled needs courage, and more importantly, perseverance. Never forget your original intention.
My name is Zhang Jian. I'm 30 years old and I'm from Hunan province. I've been staying in Jingdezhen, Jiangxi province upon graduation from Central Academy of Fine Art (CAFA). In the small town there are about 20,000 people chasing their art dreams just like me.