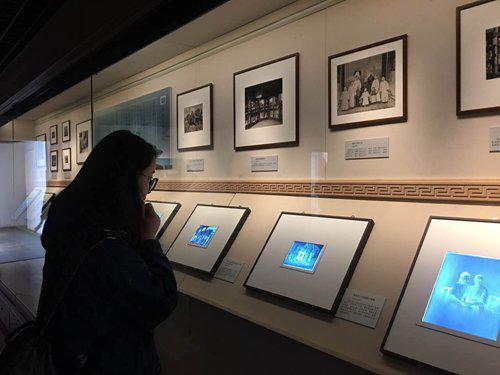 A visitor takes in an exhibition of newly discovered photographs in Beijing's Palace Museum on Wednesday. Photos: Li Jingjing/GT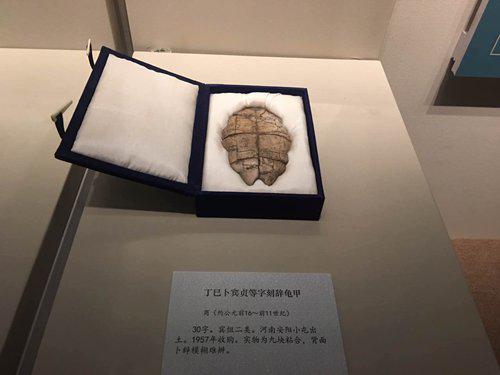 A turtle shell used for divination ceremonies during the Shang Dynasty (1046-771BC) Photo: Li Jingjing/GT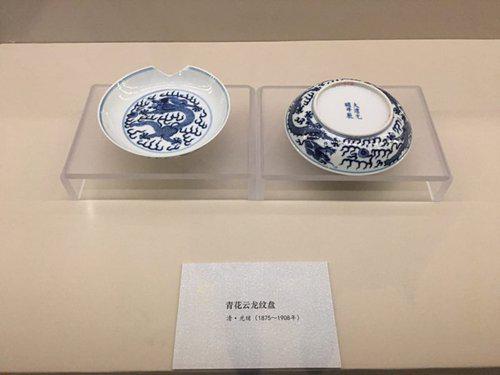 Porcelain plates dating from the Qing Dynasty (1644-1911) Photo: Li Jingjing/GT
During a press conference on March 29, Palace Museum Director Shan Jixiang announced that a massive inventory sweep of the Forbidden City has revealed previously unknown priceless artifacts.
According to Shan, 55,132 items were discovered during an inventory check of the museum grounds carried out from 2014 to 2016, raising the total number of items in the collection from 1,862,690 to 1,807,558 objects by the end of 2016.
The newly discovered items were mainly found covered in dust in hard to find corners of storerooms. Some highlights include manuscripts by the Qianlong Emperor of the Qing Dynasty (1644-1911), oracle bones, stone tablets and old photographs of the Forbidden City taken during the Qing Dynasty.
Old photographs are key to understanding the history and society of the late Qing Dynasty, including the life of Puyi, the last emperor of the Qing Dynasty.
Shan explained that the Palace Museum has almost finished cataloging the old photographs that had been found during the inventory.
As part of cataloging efforts, experts try to determine the time and location they were taken as well as identify any people in them and their relationships to each other.
Due to the unique nature of photographs, how to preserve them has been a constant topic of discussion for experts at the Palace Museum. Currently photographs are stored in specially designed frames that maintain a specific constant temperature and humidity.
After the inventory, the number of photographs in the collection has increased from around 20,000 to 27,802.
Some of the newly found objects are currently on display at the museum's Yanxi Palace, where they will remain until April 15. These objects include the Qianlong manuscripts, which were written by the emperor between 1722 and 1798.
Best of the best
The Palace Museum houses one of the largest collections of Chinese antiques in the entire world.
"Precious antiques account for 90.3 percent of all the objects in our collection," Shan said at the press conference, going on to explain that this is a staggering number for any museum worldwide.
The collection of most museums can be seen as a pyramid, with the most precious items taking up a smaller space at the tip of the pyramid. The Palace Museum's collection, however, is an inverted pyramid, Shan explained, with precious relics making up a majority of the collection.
Shan explained that the museum staff are working to digitize the collection in a database that will later be made available to the public.
According to Shan, only 400,000 items in the collection have been photographed, leaving more than half the collection neglected.
Additionally, the museum plans to open itself to donations from the public. To ensure quality, donations must meet three requirements: They must be from an outstanding contemporary artist, must be representative works from said artist and must be limited to 10 works.