The sweet guy, "father" of 5,000 dogs
2016-04-05 09:41:40 GMT
2016-04-05 17:41:40(Beijing Time)
Sina English
Li Jing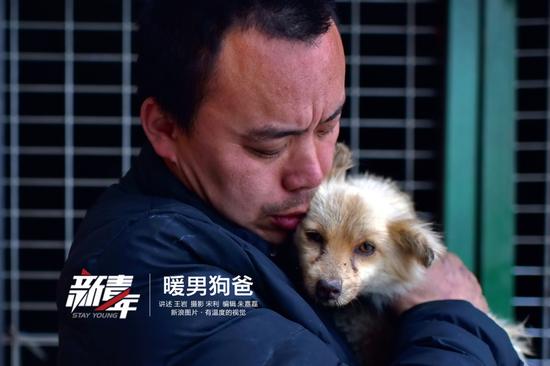 I'm Wang Yan, 29, I live in Changchun, the provincial capital of Liaoning. I founded a rescue base for small animals in 2012, collecting mainly stray dogs who are sent for the slaughterhouse. This is one of the stray dogs that I picked up. She rested on my shoulder on March 8, which was her last day in the world. How I wish time could stop at the moment!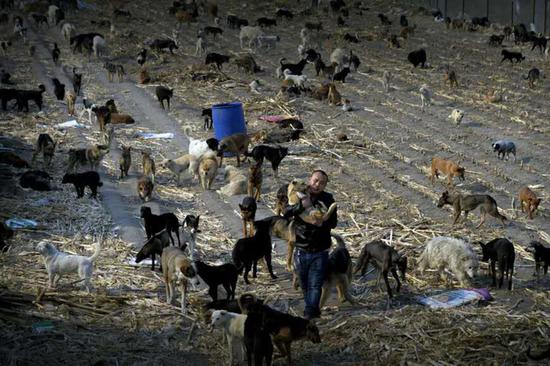 I left home for work at the age of 14 and now I run a small business about iron structure installation in the city. I always love dogs. They are loyal to their human friends. I've taken in more than 5,000 stray dogs in the three years after the establishment of the base. The species of the dogs ran the gamut from Golden Retriever, Samoyed, Pinscher to the most common local mongrel dogs.
It all started three years ago, when one of the stray dogs I adopted went missing and somebody suggested me to look for it at a slaughterhouse. I stayed and watched for a week and didn't see my dog, but I saw many beautiful little buddies there, all waiting with fears in their eyes. I decided to buy one at last.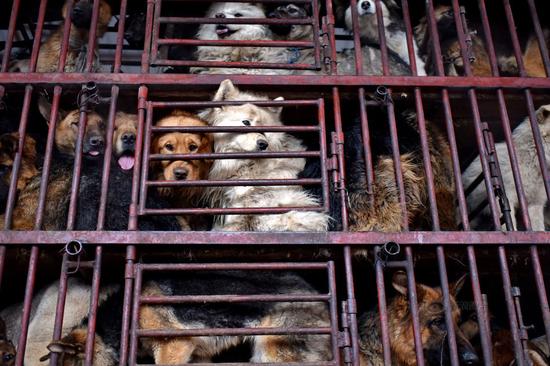 They sold the dog by weight – 12.5 yuan ($1.98) per kilogram. When I left with the dog, all the other dogs looked at me with begging eyes, which I believe I would never forget for the rest of my life. I couldn't bear to turn around and look at them. Since then I often visited the slaughterhouse to see if I could bring some poor fellow home.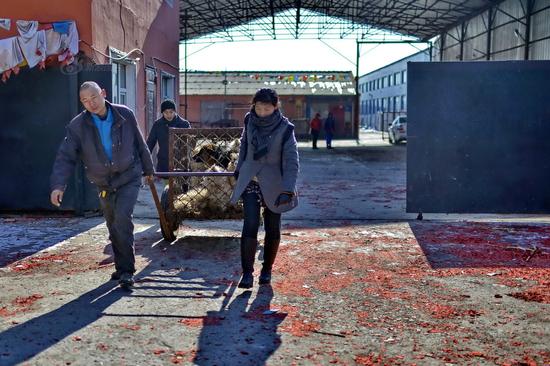 At first I rescued the dogs one by one; later when I befriended many dog-loving people, we saved the dogs by truck. We bought six dogs with 2,000 yuan ($317) from a slaughterhouse on February 25 this year.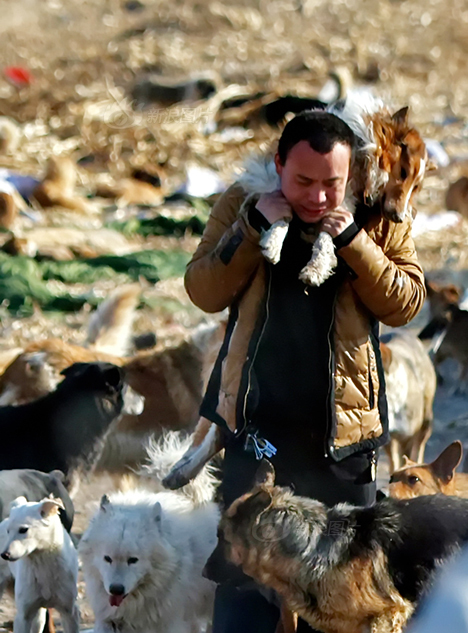 Most of the dogs we saved are from Hebei province or Tianjin municipality, and are therefore vulnerable in the -30℃ winter weather here in Changchun. Many of them died. I carried a dog on my back because it was too weak to walk on its own due to sickness.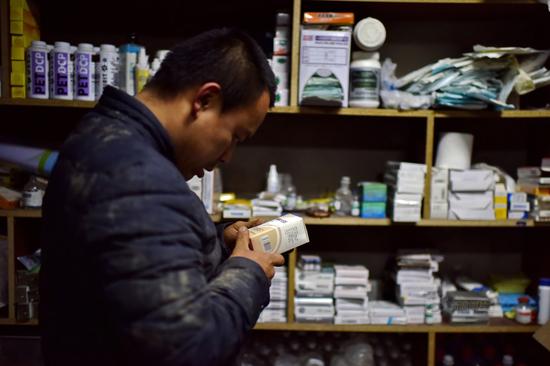 I'm searching for medicines in the pharmacy room. I'm upset because several dogs suddenly began to vomit and have diarrhea. To save the sick dogs, I studied Traditional Chinese Medicine with my uncle and tried all the herbs and injections on myself. My hands were covered with holes left by the use of syringes. And for several times I was seriously allergic to the pills, only to be saved after being sent to the hospital on time.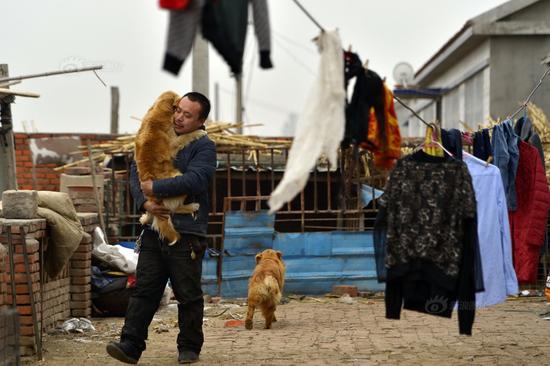 The "Yellow Hair" was one of the dogs I brought home from the jaws of death. I found him barely breathing with ulcerated skin in a cage. His eyes were full of gratitude when I looked at him as if he had a lot of things to tell me. I was touched and said "Come, yellow hair! Let's go home!" To my surprise, he seemed that he understood my words! He stumbled up and climbed into my car.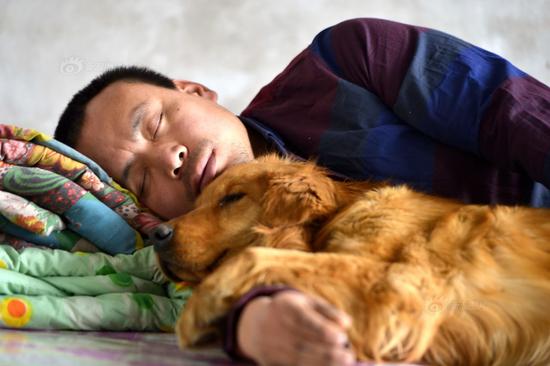 To take better care of Yellow Hair, I kept him in my own room back at the rescue base. I brought him to the bath, took his temperature and gave him injections myself. In the evening I would get up and look at him as long as I heard his cough. Yellow Hair regained his health and energy about two months later. Everybody said it was a miracle.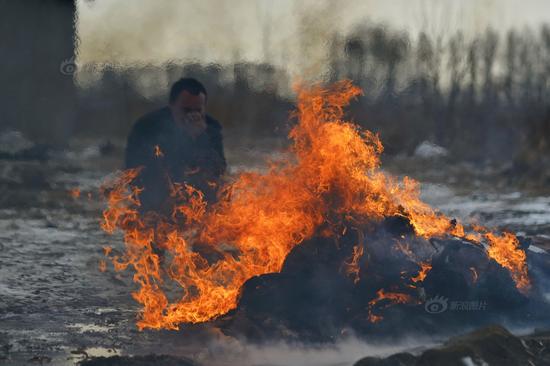 Yellow Hair was lucky to survive, but not many of his peers. I burned their dead bodies at the rescue base. Seeing them gone in the flames, I couldn't hold back my tears. I wish them all the best in heaven.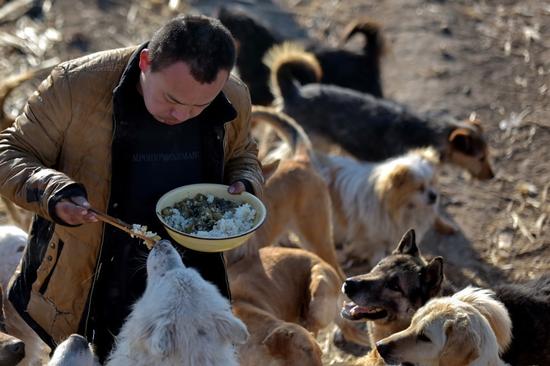 The dogs paw on my window at 5 am asking for breakfast each morning. Apart from rice and vegetables, I feed them with corn porridge cooked by my mother – They eat up 8 pots of porridge a day, each made from 100 kg corn flour. The dogs' daily food expense is around 1,000 yuan ($158); I've been spent over three million yuan ($476,000) taking care of the dogs during the three years. I used to go out for contract work in larger cities, but now as I had to take care of the dogs, I only look for local jobs. The income is sure to plunge.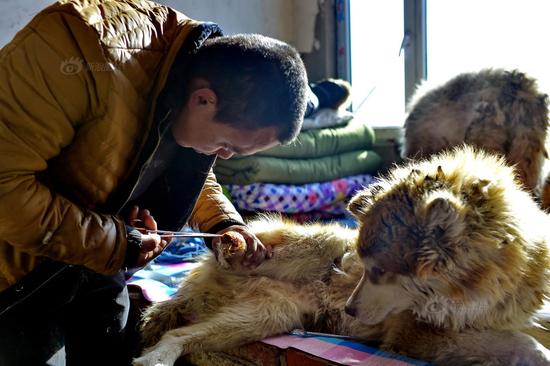 I've been minimalizing my material needs since adopting the dogs; on the other hand I'm blessed with an incredibly rich spiritual world. People think I'm wasting time raising these dogs, but to me, eating together and going to KTV are a waste of life, not caring about these beautiful creatures. There's a feeling of serenity in my while I'm with the dogs. I take care of a wound for a dog when she looks at me tamely.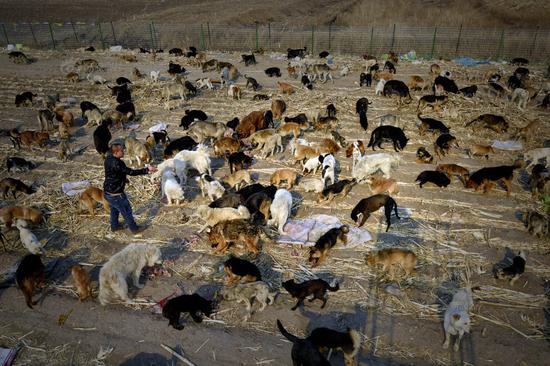 Many people don't understand why I keep these dogs, including my friends. I couldn't explain, even myself, why I would go this far with the dogs. Perhaps it is only the love for canine animals. As for hopes for the rescue base, despite the fact that I'm dragging myself into heavy debts, I have my own rules – I would never accept donated funds. I believe accepting money would turn this thing into a different matter.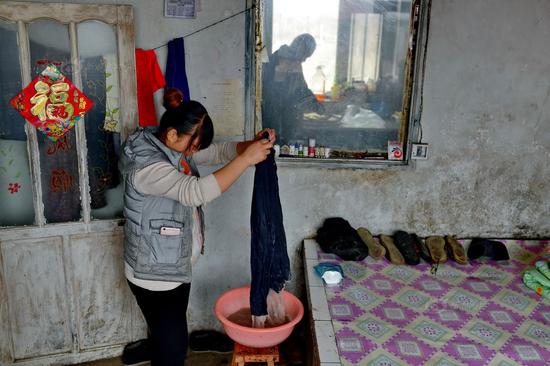 I owe it much to my wife, who spends hours a day helping me feed the dogs and clean up the kennel. I always feel guilty thinking about the thing that before we got married, we had saved about 2,000 yuan for our wedding photos, but then we found we were running out of dog food, so we spent all the money on dog food. She wasn't happy, of course, but she supported my choice anyway. She told me that she was willing to support all the things I insisted on doing.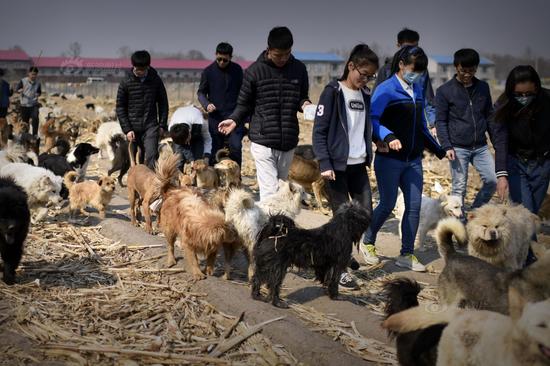 It's gratifying to know that my family and I are not alone when it comes to caring about stray dogs. Volunteers often come on Saturdays helping us with feeding and cleaning.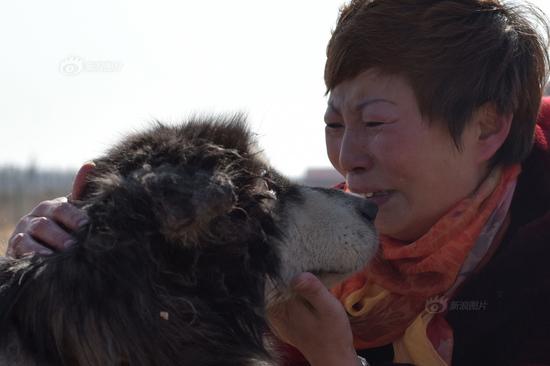 A volunteer couldn't help crying holding a dog in her hands. Now we have almost finished the construction of the kennel structure. I don't accept money, but I still hope people donate construction materials and dog food. I want to give the dogs a warmer home to live in.