Palestinians slam U.S. embassy opening in Jerusalem, resort to global help
2018-05-15 01:38:37 GMT
2018-05-15 09:38:37(Beijing Time)
Xinhua English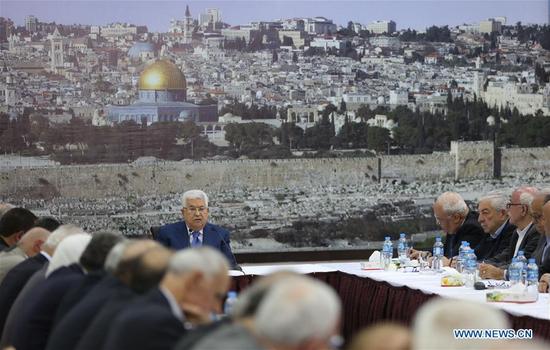 Palestinian President Mahmoud Abbas (C) speaks during a meeting of Palestinian leadership in the West Bank city of Ramallah, on May 14, 2018. Mahmoud Abbas condemned the opening of the U.S. embassy in Jerusalem Monday and called for mourning on Tuesday, after Israeli forces killed 55 Palestinians in Gaza. (Xinhua/Fadi Arouri)
RAMALLAH, May 14 (Xinhua) -- Palestinian President Mahmoud Abbas condemned the opening of the U.S. embassy in Jerusalem Monday and called for mourning on Tuesday, after Israeli forces killed 55 Palestinians in Gaza.
Abbas addressed a leadership meeting on Monday evening in his West Bank headquarters in Ramallah city, saying "what we saw in Jerusalem today was not the opening of an embassy, but the opening of an American settlement outpost."
He decried that the U.S. actions in defiance of the international community and laws "has removed itself from the political role in the Middle East as a mediator," stressing his demand to find an international multilateral mechanism to overlook peace.
Following the leadership meeting, Palestinian Foreign Minister Riad Malki said in statements to the official Palestinian TV and radio station that the Palestinians have requested an urgent UN Security Council meeting that is scheduled to convene Tuesday to address the Palestinian demand for international protection.
Meanwhile, Secretary General of the Palestine Liberation Organization (PLO) Saeb Erekat said that the leadership decided to file a legal case against Israel to the International Criminal Court (ICC) over settlement activity on the occupied Palestinian territory.
He added that the leadership also decided to limit relations with Israel and implement the decisions of the Palestinian National Council held last April.
The Gaza Strip's health ministry announced on Monday night that the Israeli soldiers shot dead 55 Palestinians and wounded 2,771 others in a bloody daylong of protests and confrontations in eastern Gaza Strip.
A large protest the Palestinians called the "One Million Palestinians March" was organized Monday against the U.S. moving its embassy from Tel Aviv to Jerusalem.
The "Day of Catastrophe" or Nakba Day for the Palestinian people is marked on May 15 each year, in memory of the forcible transfer of two thirds of the Palestinian people and ethnic cleansing of at least 418 villages as a result of the 1948 war.
The U.S. embassy opening ceremony in Jerusalem on Monday came in line with U.S. President Donald Trump's recognition of Jerusalem as Israel's capital and ordering the moving of his country's embassy to the holy city last December.
Palestinians described the U.S. move as a provocation and a flagrant violation of international law. They disqualified the U.S. from being the sole sponsor of the peace process with Israel and called for an international multilateral mechanism to overlook peace negotiations.