Plane crashes near Havana with 104 passengers on board
2018-05-19 02:26:41 GMT
2018-05-19 10:26:41(Beijing Time)
Xinhua English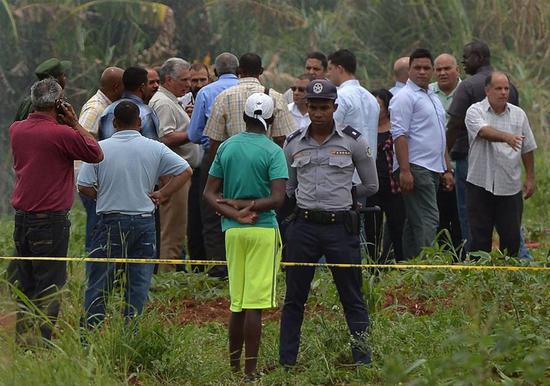 Image provided by the Cuban News Agency shows that Cuban President Miguel Diaz-Canel arrives at the site where an airplane crashed near the Jose Marti International Airport in Havana, Cuba, on May 18, 2018. At least three people have been found alive, but in critical condition, after a Boeing 737 passenger plane crashed near Havana on Friday, according to state newspaper Granma. (Xinhua/Cuban News Agency)
HAVANA, May 18 (Xinhua) -- At least three people have been found alive, but in critical condition, after a Boeing 737 passenger plane with 104 passengers on board crashed near Havana on Friday, according to state newspaper Granma.
Local media reported that more than 100 have died after the plane crashed shortly after takeoff.
Mexican authorities said five Mexican crew members were on board. A statement from the Mexican Ministry of Communications and Transportation listed the names of the crew members, and said that the plane had been built in 1979, and its type is Boeing 737-201.
The Boeing passenger plane carrying 104 passengers crashed Friday morning shortly after taking off from Havana's Jose Marti International Airport.
The plane was covering the regular route from Havana to the eastern city of Holguin city.
It is reported that the aircraft belonged to the Mexican company Damojh and had been rented by Cubana de Aviacion.
Damojh Global Air is a commercial aviation company registered in Mexico, which offers charter flights.
Cuban President Miguel Diaz-Canel rushed to the scene of the disaster, accompanied by officials from the Ministry of the Interior and the Ministry of Transportation.
Speaking to Cuban television, he said that "the news is not good, it seems there is a high number of victims."
It was also reported that three survivors in critical condition are being treated at the General Calixto Garcia University Hospital.
Dr. Carlos Martinez, director of the hospital, told the press that four passengers had been brought in, one man and three women, but that the male passenger had died.
Martinez explained that the hospital had activated all emergency measures, including releasing beds, preparing surgery and ensuring supplies of blood were available.
The causes of the accident are under investigation. Cuban authorities deployed emergency rescue teams, supported by firefighters, to attend to the crash.
Witnesses reported hearing explosions and seeing a high column of smoke near the airport.
The authorities closed the main highway from the city to the airport and allowed only ambulances and official vehicles to pass.