Cuba confirms 110 dead in Friday's plane crash, 3 survivors in serious condition
2018-05-20 00:53:18 GMT
2018-05-20 08:53:18(Beijing Time)
Xinhua English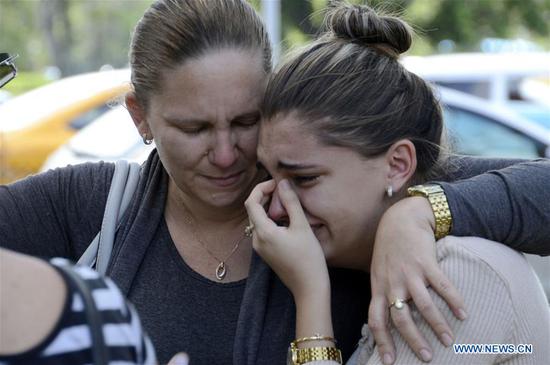 Relatives of the victims of the airplane crash weep outside the Institute of Legal Medicine of Havana in Havana, Cuba, on May 19, 2018. Cuba confirms here on Saturday that 110 were dead from Friday's Boeing 737 crash close to Havana's Jose Marti International Airport. (Xinhua/Joaquin Hernandez)
HAVANA, May 19 (Xinhua) -- Cuba confirms here on Saturday that 110 were dead from Friday's Boeing 737 crash close to Havana's Jose Marti International Airport.
Transportation Minister Adel Yzquierdo told a press conference that of the 110 dead, 99 were Cubans, 11 foreigners including 6 Mexican crew members, 2 Argentines, 1 Mexican and 2 temporary foreign residents.
Up to now, only 15 bodies have been identified, the minister said, adding officials were working intensively to identify the rest of the victims, whose remains were transferred to the Institute of Legal Medicine in Havana.
Yzquierdo said the three survivors of the tragic accident have been identified as Mailen Diaz, 19, Gretell Landrovell, 23, and Emiley Sanchez, 39.
They are receiving specialized medical attention at the Calixto Garcia University Hospital in the capital, and their condition is critical.
One of the plane's two black boxes has been recovered in good condition, specifically the one with the voice recordings, and investigators continue to sift through the rubble for the second one containing flight data, Yzquierdo said.
Representatives of the aircraft's manufacturer are arriving to help in the investigations, as are international experts, to determine what caused the crash.
The aircraft leased by Cubana airlines from the Mexican company Damojh, crashed a little past noon on Friday, minutes after taking off from Terminal 1 of Havana's Jose Marti International Airport.