BEIJING, June 8 (Xinhua) -- The World Cup finals bring together the best football teams and players in the world, which will kick off in a week.
In the tournament we will see some players who have yet to hit the headlines take a big leap forward in their careers, but there are plenty of renowned stars who are expected to perform. Here are 10 players to keep our eyes on in Russia.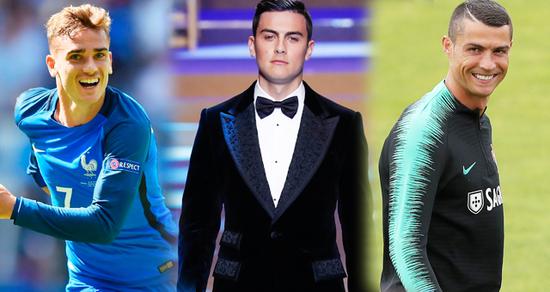 NEYMAR
Neymar travels to Russia after a season cut short by injury and a frustrating European campaign with Paris Saint Germain. Considered to be the natural successor to Lionel Messi and Cristiano Ronaldo as the best player in the world, Neymar has speed, close control and incredible talent. However, he needs to focus that talent in a Brazilian side packed with individual skill. Neymar has already tasted the bitter side of World Cup failure in 2014 when the hosts suffered a humiliating semifinal defeat to Germany.
Now he has to show he has learned from that and that he not only has the skill, but also the mentality to become a leader.
LIONEL MESSI
Lionel Messi is probably playing in his last World Cup and travels to Russia after ending the season as the top goal-scorer in Europe.
There is little doubt that he is the best player in the world and he showed that as he dragged a poor Argentina team to Russia, scoring vital goals in key qualifying games.
If Messi is fit and at his best, he is not only a top goal-scorer but also a creator, which he's shown that this season in adapting to a new role at FC Barcelona where he's dropped deep to start attacking moves.
He will certainly be a marked man and with the demanding Argentine fans expecting nothing short of the title, the pressure will be on Messi to deliver.
KEVIN DE BRUYNE
Belgium will be among the favorites in Russia with a host of attacking talents available to coach Roberto Martinez. Romelu Lukaku, Eden Hazard and Kevin De Bruyne will all vie for center stage, but De Bruyne heads to Russia after helping Manchester City romp to the Premier League title. Fast, able to beat rivals with ease and score with either foot, De Bruyne is also a threat from set pieces, which means he can always be at the heart of the action for a team that promises much, but now has to deliver in a major competition.
RAHEEM STERLING
England striker and captain Harry Kane will no doubt be his side's poster boy and his goals will be vital if England are to improve on recent disappointments at big tournaments. However, in a squad which looks to be light on midfield talent, perhaps Raheem Sterling could be England's key player.
Sterling has long promised much. At Liverpool he was a precocious talent with the ability to drift past rivals with the ball at his feet. Nevertheless he was also frustrating to watch, too often failing to find the finish or the final pass to finish off his moves.
Sterling has now spent two years working with Pep Guardiola at Manchester City and the progress is clear to see. The meticulous Catalan coach has maintained Sterling's mercurial ability, but given greater maturity to his play. That moment's pause will be vital if he is to become Kane's partner in the England attack.
DAVID DE GEA
Most of the attention Spain get will be paid to their flowing attacking football and the ease with which the Spanish maintain possession of the ball. However every good side needs to be built on a solid defense and in David de Gea the Spanish have arguably the best young goalkeeper in the world.
The Manchester United keeper is still only 27 years old, but can count on nine seasons' experience playing first team football, firstly with Atletico Madrid and for the last seven campaigns at Manchester United.
De Gea was raw when he went to England, but he toughened up and improved in the air and dealing with crosses. If a side is able to get past Sergio Busquets and Sergio Ramos they still have to get past De Gea and that won't be easy.
KAMIL GROSICKI
The Polish attack is based around Robert Lewandowski, but people would do well to remember that Kamil Grosicki was his main supplier at Euro 2016.
Although he has spent the last season plying his trade with Hull City in the English second-tier and has blown hot and cold over the season, on a good day Grosicki is virtually unplayable.
He is nicknamed "Turbo" for a reason; Grosicki is lightning quick and able to beat defenders with ease. He won't want to spend another season in the English Championship and a good World Cup performance should help earn him a move back to the elite level that 'The Polish Messi' deserves.
TAKASHI INUI
Nobody should underestimate the Japanese football team and in their winger Takashi Inui we can find the perfect example of how the globalization of football has helped make their side more competitive in recent years.
Inui has spent the past three years at Spanish La Liga side Eibar, who he joined after plying his trade at Eintracht Frankfurt. He has the ability to combine tricky wing play with hard-work and a willingness to cover in defense.
Although he is not a prolific goal scorer, Inui chipped in with five goals in the recently completed league campaign. On top of that, some of his challenges have showed that behind his boyish face is a player who is willing to put a foot in to help the cause.
JOSHUA KIMMICH
Reigning champions Germany have plenty of standout players, but attacking full back Joshua Kimmich is one who could make the headlines this summer.
Kimmich's two goals against Real Madrid in the Champions League quarterfinals give an idea of what to expect from a player able to play in the center or to the right of midfield, but who has developed into an attacking right back.
An article on the Bundesliga official website calls Kimmich a "Swiss army knife" of a player; able to carry out numerous tasks. This summer could be the moment he confirms himself as one of the best forward-looking defenders in the world.
JAMES RODRIGUEZ
James Rodriguez shares the Bayern Munich dressing room with Kimmich and knows his style of play well, but James will again be one of the lynchpins for the Colombian national team in Russia.
The top-scorer in the 2014 World Cup, James joined Bayern on loan from Real Madrid at the start of the 2017-18 season after being squeezed out at the Bernabeu by Isco and Marco Asensio. In the Spanish League at least, Real Madrid have missed James' ability to create chances as well as the average of one goal every three games that he has guaranteed wherever he plays.
Although James is left-footed, he performs better in a central role, where he has room to cut inside to unleash his powerful shot. He's also able to dribble past opponents and is also deadly from set pieces. Four years after being the top-scorer in Brazil, Colombia's poster boy is ready to perform again.
MOHAMED SALAH
Egypt have a real chance of reaching the last 16 of this World Cup, but whether or not they are able to get out of a group containing Russia, Uruguay and Saudi Arabia, depends on if Mohamed Salah will be at his best.
Salah's stellar performances in Europe was vital in taking Liverpool to the Champions League final and when you add that to his 32 goals in 36 Premier League games, he has quickly become one of the best players on the planet.
He can play as a second striker or lead the line on the right wing, but his confidence in front of goal means the closer he is to the opposition's penalty area the better.
Salah's Champions League final came to an early end after a cynical Sergio Ramos foul injured his shoulder. Although the signs are hopeful he will recover in time, some doubt has to remain over his match fitness.