Xi awards Putin China's first friendship medal
2018-06-09 06:49:08 GMT
2018-06-09 14:49:08(Beijing Time)
Xinhua English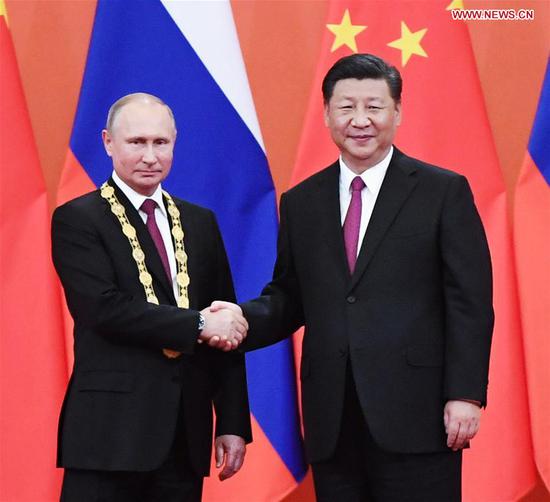 Chinese President Xi Jinping awards his Russian counterpart Vladimir Putin the first-ever Friendship Medal of the People's Republic of China at the Great Hall of the People in Beijing, capital of China, June 8, 2018. (Xinhua/Shen Hong)
BEIJING, June 8 (Xinhua) -- Chinese President Xi Jinping on Friday awarded his Russian counterpart Vladimir Putin the first-ever Friendship Medal of the People's Republic of China.
The ceremony was held at the Great Hall of the People in Beijing. Wang Huning and Han Zheng, both members of the Standing Committee of the Political Bureau of the Communist Party of China Central Committee, attended.
The ceremony started when 18 honor guards of the People's Liberation Army marched into the site at 5:55 p.m. The two heads of state stepped onto the stage, and the national anthem of China was played.
Friendship Medals, the highest state honor to foreigners, are presented to foreign friends who have made outstanding contributions to China's modernization drive, promoting exchange and cooperation between China and the world, and safeguarding world peace, Xi said when delivering a speech.
As a leader of major country with global influence, President Putin is "an old friend" and "a good friend" of the Chinese people, Xi said.
Thanks to President Putin, bilateral ties have withstood the test of ever-changing international situation, Xi said, noting the deepened political and strategic mutual trust, great progress in pragmatic cooperation in various fields, and the enhanced friendship between the two peoples.
The China-Russia relations, standing at a high level, have benefited the two peoples and served as a model of harmonious coexistence of major countries and neighboring countries. Such relations have contributed to the building of a new type of international relations and a community with shared future for humanity, Xi said.
Xi said he will work along with Putin to usher in even brighter future to the relations between the two countries.
Wang Huning read out the order of award, which is conferred to recognize Putin's long-time devotion and important contribution to good neighborliness and friendship between Russia and China, and to the development of the comprehensive strategic partnership of coordination.
Xi, in a solemn manner, awarded the medal to Putin. The two heads of state shook hands cordially amid warm applause from the audience.
The national anthem of Russia was played.
Putin expressed great thanks Xi for awarding China's first Friendship Medal to him, saying that it is not only the highest honor given to himself, but also reflects the high level of Russia-China comprehensive strategic partnership of coordination, as well as Chinese people's profound friendship towards Russian people.
"We value the Russia-China comprehensive strategic partnership of coordination," said Putin, adding that friendship between the heads of state and friendship between the two peoples are the solid foundation for the bilateral strategic cooperation.
More than 700 people attended the ceremony.