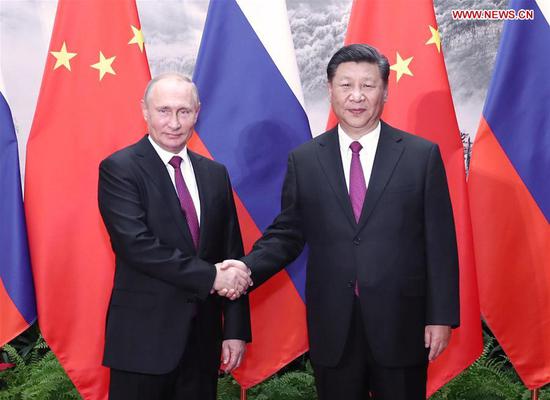 Chinese President Xi Jinping holds talks with his Russian counterpart Vladimir Putin in Beijing, capital of China, June 8, 2018. (Xinhua/Ju Peng)
BEIJING, June 8 (Xinhua) -- President Xi Jinping and his Russian counterpart Vladimir Putin on Friday agreed to promote greater development of China-Russia relations at a high level.
The two leaders reached the consensus during talks in Beijing.
Putin is on a state visit to China, and he will also attend the 18th Shanghai Cooperation Organization (SCO) summit in the eastern Chinese coastal city of Qingdao on Saturday and Sunday.
The two leaders agreed that China and Russia should adhere to the concept of everlasting friendship and the spirit of strategic coordination, and expand and deepen cooperation in all areas.
Xi extended congratulations to Putin again on starting his new term as Russian president, and expressed appreciation to him for choosing China as the first country he pays a state visit to in his new presidential term.
Xi described China-Russia comprehensive strategic partnership of coordination as "mature, stable and solid."
No matter how international situations change, China and Russia always firmly support each other in defending their respective core interests, deepen cooperation in all areas, jointly and actively participate in global governance, and play a pivotal role in establishing a new type of international relations and building a community with a shared future for humanity, Xi said.
China is ready to work with Russia and make unremitting efforts to consolidate high-level mutual trust, expand cooperation in all areas, deepen people-to-people exchanges and mutual learning, enhance international coordination and cooperation, pass down the concept of everlasting friendship from generation to generation, continuously enrich the meaning of the two countries' strategy of coordination, and carry forward and renew bilateral ties day by day, so as to benefit the two peoples, Xi said.
With concerted efforts, cooperation between China and Russia in various areas has maintained a strong momentum, and the integration of mutual interests has deepened constantly, Xi said.
The two sides have reaped important early harvests in aligning the Belt and Road Initiative with the Eurasian Economic Union, Xi noted.
Both sides should explore new ideas and measures to promote all-round cooperation, and turn the two countries' advantage in high-level political relationship into more practical cooperation results, Xi said, calling for strengthening people-to-people and cultural cooperation to deepen the friendship between the two peoples.
China and Russia, both permanent members of the UN Security Council, firmly safeguard the international order and system with the purposes and principles of the UN Charter as the core, stand for democracy in international relations, push for political settlement process for hotspot issues, and continue to play their active role in maintaining world peace and international strategic stability, Xi said.
China is willing to work with the other SCO member states, including Russia, to take the Qingdao summit as an opportunity to further carry forward the "Shanghai Spirit" and ensure the healthy and stable development of the SCO, Xi noted.
Stressing that Russia-China comprehensive strategic partnership of coordination remains Russia's diplomatic priority, Putin said the two countries have taken care of each other's core interests and major concerns, actively promoted dialogues and cooperation in political, economic and people-to-people and cultural areas, and worked closely in international affairs.
The Russia-China relations are at their best level in history and have set a good example for state-to-state relations in the present world, which has played an important role in safeguarding international peace, security and stability, Putin said.
Russia is willing to enhance cooperation with China in areas of economy, trade, investment, energy and infrastructure, he said.
He noted that Russia appreciates China's efforts to promote cooperation among SCO members after taking over the SCO rotating presidency and supports China in hosting a successful summit in Qingdao.
Russia would like to develop closer coordination and cooperation with China in international and regional affairs and under the multilateral frameworks including the United Nations, BRICS and G20, Putin said.
The two heads of state also exchanged views on issues of common concern including the situation on the Korean Peninsula and Iran nuclear issue.
Chinese Vice Premier Han Zheng, a member of the Standing Committee of the Political Bureau of the Communist Party of China Central Committee, attended the talks.
Before the talks, Xi held a welcome ceremony for Putin outside the Great Hall of the People in central Beijing.
After the talks, Xi and Putin signed a joint statement, witnessed the signing of bilateral cooperation agreements and met the press.
China-Russia partnership is a paradigm for today's state-to-state relations, and coordination between the two countries serves as a key factor in maintaining the world's strategic balance and stability, said the joint statement.
The two countries will support international community's joint efforts to cope with terrorism, extremism and other traditional and new threats and challenges, said the statement.
China and Russia reiterate their determination to engage in counter-terrorism cooperation and abandon politicization and "double standards," and agree to advocate establishing an international united front against terrorism, it said.
The two countries will stand against the act of bypassing the UN Security Council to impose unilateral economic sanctions, said the statement.
They will also oppose the acts of sabotaging the principle of fair and honest competition, as well as the acts of blackmailing and imposing pressure which damage the world economy.
The two countries hold that the territorial integrity of Syria should be safeguarded and its sovereignty should be respected.
The two pledge to continue their coordination efforts for a peaceful and comprehensive solution to the Korean Peninsula issue.
It is disappointing that the United States unilaterally withdrew from the Iran nuclear deal, said the statement, adding that China and Russia will try their best to safeguard the deal and take note of the extreme importance of protecting the interests of all parties who engage in economic and trade cooperation with Iran from unilateral imposition of long-arm jurisdiction.