Bach anticipates "moment of joy and relief" at Tokyo 2020 opening ceremony
2021-07-21 13:36:57 GMT
2021-07-21 21:36:57(Beijing Time)
Xinhua English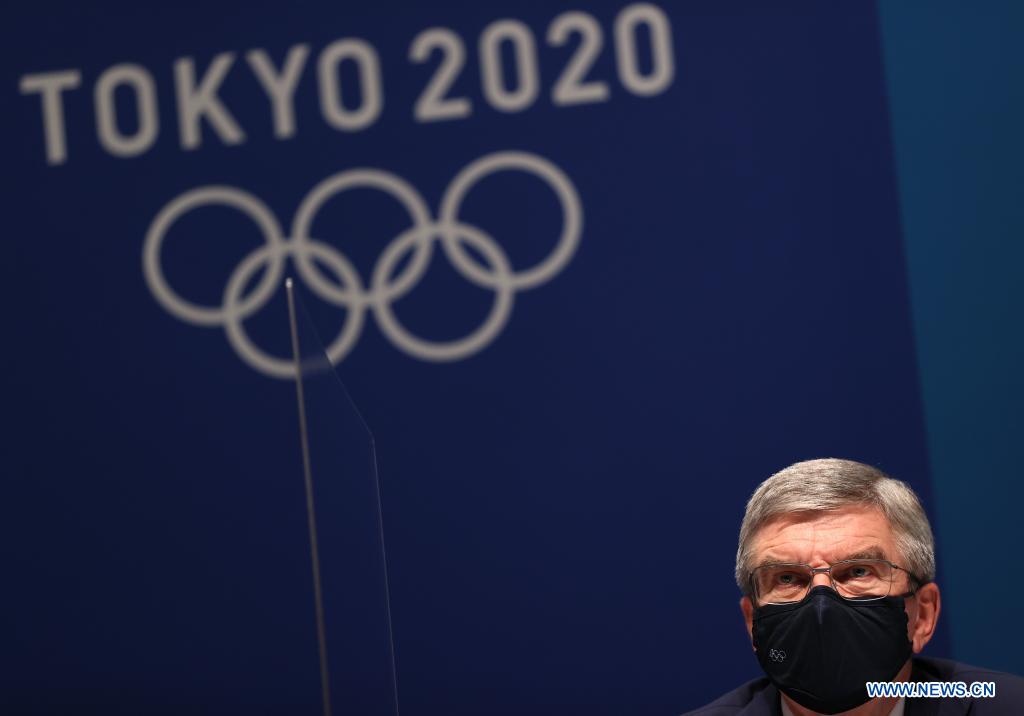 International Olympic Committee (IOC) President Thomas Bach attends a press conference at the Main Press Center (MPC) of Tokyo 2020 in Tokyo, Japan, July 21, 2021. (Xinhua/Jia Haocheng)
TOKYO, July 21 (Xinhua) -- International Olympic Committee (IOC) President Thomas Bach said it will be "a moment of joy and relief" for him when the postponed Tokyo Games officially opens on Friday after going through many difficulties due to the COVID-19 pandemic.
"We are in anticipation for the opening ceremony. It will be a moment of joy and relief when entering the stadium," Bach told a press conference after the 138th IOC session here on Wednesday.
"A moment of joy particularly for athletes. I know how much they are longing for this moment. They can finally be there and enjoy this moment in special circumstances.
"A feeling of relief as the route to this opening ceremony was not the easiest one," the German took to a saying of "There is stone falling from your heart" to describe his feeling of relief.
"If you hear some stones falling on July 23, they may come from my heart."
With two days to go before the Tokyo 2020 opening ceremony, football and softball competitions got underway on Wednesday.
"It's a promising start here for hosts Japan. I have been informed that organization was seamless and worked extremely well. It's off to a great start," said Bach.
Bach added that the Tokyo Olympics will have a special meaning and send a very strong message of hope to Japan and the entire world.
"The Games will highlight the perseverance of the Japanese people and international community coming together here. It's a recipe for overwhelming and addressing crisis.
"After the Games, this message of hope will be transferred to a message of confidence, and this comes on top of the legacy. The Games will leave magnificent sports venues about which the athletes are excited and from which the Japanese people and the sports worldwide will benefit for a long time," said Bach.
Also on Wednesday, the Australian city of Brisbane was awarded the right to host the 2032 Summer Olympic Games at the IOC session.
Bach said he was impressed by Brisbane's presentation that addressed all key issues in a substantive way.
"It is a project which is absolutely in line with the IOC reforms and a project of sustainable Games in every aspect.
"I'm sure this Games will inspire many young generation to practice sports and try to get to Brisbane 2032 to participate," Bach noted. Enditem
International Olympic Committee (IOC) President Thomas Bach attends a press conference at the Main Press Center (MPC) of Tokyo 2020 in Tokyo, Japan, July 21, 2021. (Xinhua/Jia Haocheng)