Sina 3X3 Golden League Lands SamYang Food as FMCG Sponsor
2018-04-18 08:27:52 GMT
2018-04-18 16:27:52(Beijing Time)
Sina English
SamYang Food has signed an agreement with Sina Sports as a sponsor for Sina 3X3 Golden League. The FIBA certified tournament is now in its fourth season and SamYang Food became its first FMCG sponsor. SamYang Food is a Korean food brand, famous for its ultra-spicy chicken ramen. The innovative ultra-spicy taste campaign is very popular among Chinese consumers.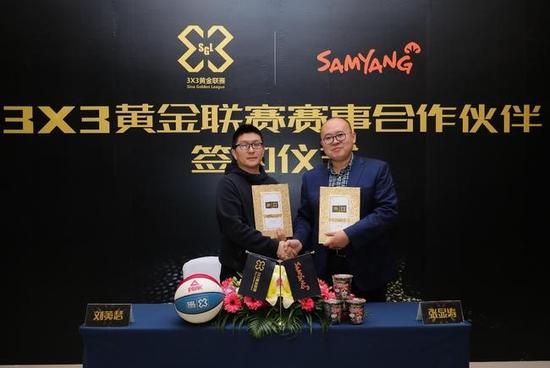 This partnership is yet another confirmation of the commercial value of the Sina Golden League, coming after the announcement earlier this year of Haima Automoile as Top Partner and PEAK as Partner of the event. As 3X3 basketball becomes the most influential and valuable 3X3 basketball event in Asia, the sponsorship of SamYang Food opens a new door of FMCG in sports marketing and builds a brand image of passion.
SamYang Food especially values the influence of 3X3 Golden League among millennials. The large volume of followers and participants of 3X3 Golden League in the coveted 18-35 year old demographic matches well with the target consumer base of SamYang.
Given the cooperation, Eason Liu, Events Director of Sina Sports said, "among various product categories, fast-moving consumer goods conpanies value most on the input-output ratio and sales promotion. The commercial value of Sina 3X3 Golden League has been attractive to FMCG sponsors after its four-year's development. In addition, this cooperation will reveal much more possibilities between events and FMCG brands through a series of sports events marketing, combining live promotion on court with online social interaction."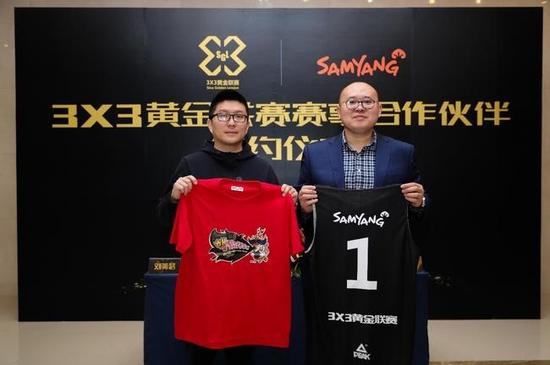 Zhang Xiantao, Chinese Exclusive Distributor of Samyang Food, said at the signing ceremony, "in recent years, the growing development of Samyang Food is attributed to young people's love and recommendation. Samyang hopes to convey the passion and energy to more young people as the partner of 3X3 Golden League, creating deeper communication with young consumers via a series of online and offline interactions and transferring Samyang's brand concept continuously."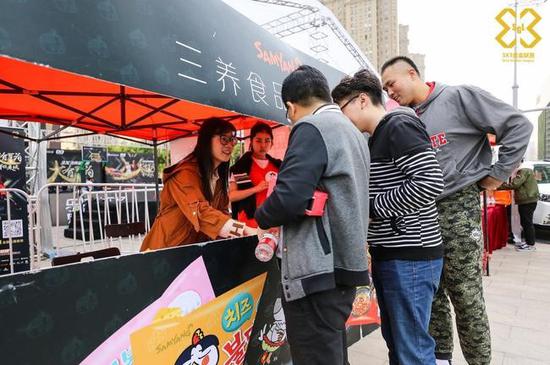 Existing Partnership of Sina 3X3 Golden League
Sina 3X3 Golden League, as the largest 3X3 basketball tournament in Asia, has many partnerships of well-known brands including Haima Automobile, PEAK Sports, TinSue and Mediapro.
As Top Strategic Partner of Sina 3X3 Golden League, Haima Automobile will activate the sponsorship via awarding a Haima car to the grand champion of the tournament. PEAK, a second year partner, has been providing high-quality apparel to all participants of the event. Tinsue, a professional basketball floor brand founded in 2003, has provided their top-quality sports floor to all stops of the tournament. With a five-year partnership, Mediapro, one of the world's leading sports agencies, has been assisting Sina Sports to secure global broadcast and sponsorship deals and to develop the franchise model to bring the 3X3 Golden League to the world.
About Sina Sports
Sina Sports is the #1 destination for sports fans in China. Established in 1998, Sina Sports was the first ever online sports platform in China, offering fans a diversified platform to access the sports news and games they care about, including on the web (sports.sina.com.cn), via mobile, and on the Sina Sports mobile APP.
Sina Sports licenses and partners with over 90 sports properties, including the European Champions League, Bundesliga, MUTV, the Masters, PGA Tour, LPGA, Australian Open, Wimbledon, UFC, and the National Basketball League of Australia.
Since 2015, Sina Sports has expanded its business to encompass its own sporting events including a FIBA-certified 3X3 basketball tournament that is the leading tournament of its kind in China, and the leading 5X5 football tournament in China, among others.
PR Contacts Info
Roger Zhang | +86 13701251185
yichi3@staff.sina.com.cn