Euro 2012: Wives and girlfriends of footballers
2012-06-14 09:08:47 GMT
2012-06-14 17:08:47(Beijing Time)
SINA.com
Shakira Spainish defender Gerard Pique must have thought Shakira was lying when the sexy international superstar agreed to go out on a date with him, but by now we're sure he's figured out that those hips definitely don't lie.
Coleen Rooney England wild man Wayne Rooney settled down and married Coleen McLoughlin in 2008. She seems pretty happy about it.
Irina Shayk Cristiano Ronaldo is on fire these days, and he has kept that hot streak going off the field as well. His insanely gorgeous girlfriend Irina Shayk graced the cover of Sports Illustrated's 2011 swimsuit edition, and was voted the Sexiest Woman in the World by several different trustworthy publications. How could anybody disagree?
Helena Seger Sweden's Zlatan Ibrahimovic can perform miracles on the pitch. But the most impressive miracle of all is his marriage to Swedish uber-WAG, Helena Seger, who is 11 years his elder and owns a degree in economics.
Toni Poole Despite his scandalous affair, Toni Poole has decided to give her husband John Terry 'one last chance.'
Alex Curran English hottie Alex Curran has been off the market since she married Steven Gerrard in 2007.
Claudine Palmer Ireland's Robbie Keane scored one of the hottest women on the Emerald Isle in former Miss Ireland contestant Claudine Palmer.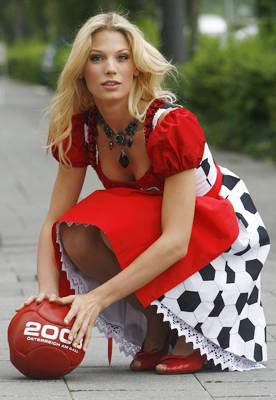 Sarah Brandner German star Bastian Schweinsteiger was lucky enough to land German super-duper-model Sarah Brander.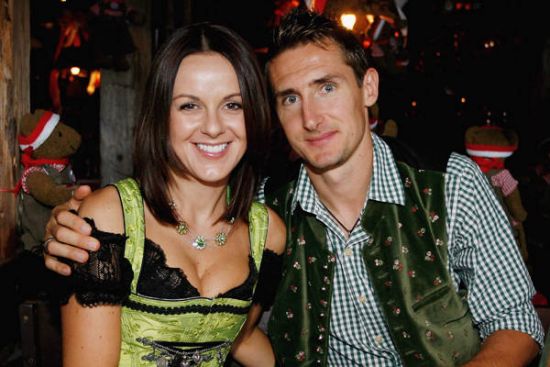 Sylwia Klose Sylwia is married to Germany's Miroslav Klose. I'm sure most of us would offer to buy her a beer if we spotted her at Oktoberfest.
Check out the football stars' wives and girlfriends.