Victoria Azarenka claims the title at China Open
2012-10-08 00:20:14 GMT
2012-10-08 08:20:14(Beijing Time)
China Daily
Victoria Azarenka displays the China Open tennis trophy on Sunday night following her comprehensive defeat of Maria Sharapova. [Photo by Cui Meng / China Daily]
Vika is short for victory over Sharapova for the fourth time this year.
World No 1 Victoria Azarenka (nicknamed Vika) of Belarus followed her Australian Open straight-sets final win over Russia's Maria Sharapova with more of the same in the China Open final on Sunday night, claiming her second Premier title this season.
Azarenka converted five of 12 break points while conceding five fewer unforced errors than Sharapova in a 6-3, 6-1, 86-minute victory to claim her first title in Beijing.
It was Azarenka's fourth consecutive hard-court victory over Sharapova this season — she also won in the Indian Wells final and US Open semifinals — and her seventh win in their 11 meetings.
Boasting elegant styles and marketable looks, both players entered the packed stadium to chants and applause, and both were vocal throughout the match, yelling and grunting with most of their shots.
Azarenka, who didn't drop a set in the tournament, got off to a quick start by breaking Sharapova in the first game. She built a 5-3 lead before breaking again to secure the first set in 42 min. She just kept rolling in the second set, establishing a 5-0 lead by breaking the Russian's first two serves.
"I am so happy to win here with huge support," the 23-year-old said during the title ceremony on the court. "It will be my most memorable moment of the whole year. I will be happy to come back next year. Xie xie (thank you) Beijing."
Sharapova, who double-faulted seven times, didn't seem overly disappointed.
"Thanks so much for the support here," the 25-year-old said. "(Fans) appeared everywhere — on the practice court, in the hotel lobby — to support me. I feel like I have the most loyal fans here."
Azarenka won $848,000 and 1,000 WTA ranking points, while Sharapova grabbed $424,000 and 700 points.
Related:
Djokovic wins record third China Open title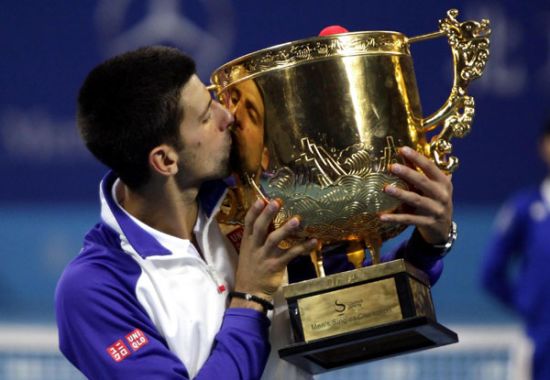 Serbia's Novak Djokovic kisses the trophy after winning the men's singles final against France's Jo-Wilfried Tsonga at the China Open tennis tournament in Beijing October 7, 2012. [Photo/Agencies]
World No.2 Novak Djokovic from Serbia captured a record third China Open title after edging past always-dangerous and talented Frenchman Jo-Wilfried Tsonga in the final on Sunday.
Djokovic is the only player who can defended title here after winning in 2009 and 2010 and this time he made history again by winning the China Open for a record third time.