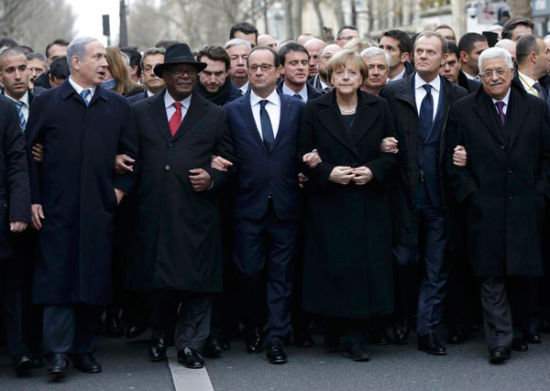 French President Francois Hollande is surrounded by head of states including (L to R) Israel's Prime Minister Benjamin Netanyahu, Mali's President Ibrahim Boubacar Keita, Germany's Chancellor Angela Merkel, European Council President Donald Tusk and Palestinian President Mahmoud Abbas as they attend the solidarity march (Marche Republicaine) in the streets of Paris, January 11, 2015. [Photo/Agencies]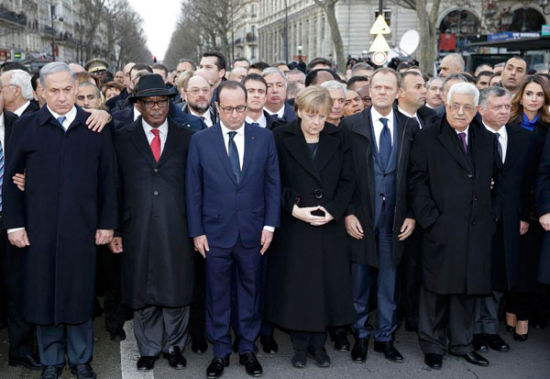 French President Francois Hollande observe a minute of silence surrounded by heads of state including (LtoR) Israel's Prime Minister Benjamin Netanyahu, Mali's President Ibrahim Boubacar Keita, Germany's Chancellor Angela Merkel, European Council President Donald Tusk, Palestinian President Mahmoud Abbas and King Abdullah of Jordan and Queen Rania Al Abdullah as they attend the solidarity march (Marche Republicaine) in the streets of Paris January 11, 2015. [Photo/Agencies]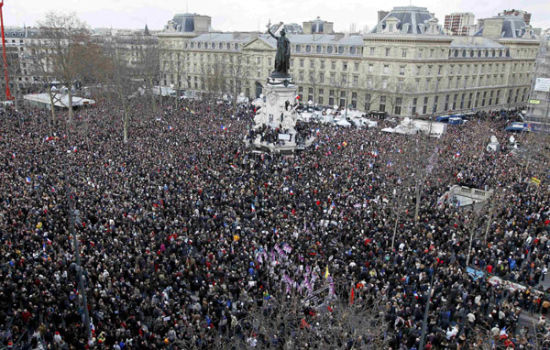 A general view shows Hundreds of thousands of people gathering on the Place de la Republique to attend the solidarity march (Rassemblement Republicain) in the streets of Paris January 11, 2015.[Photo/Agencies]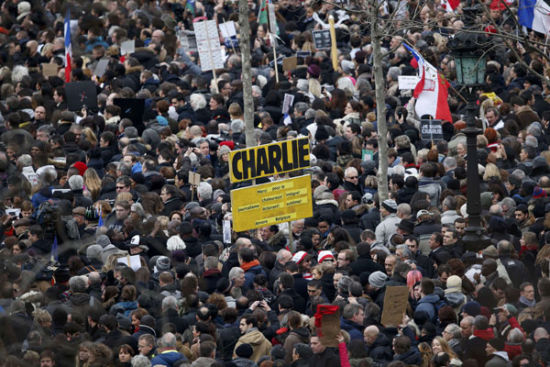 Hundreds of thousands of people gather on the Place de la Republique to attend the solidarity march (Rassemblement Republicain) in the streets of Paris January 11, 2015.[Photo/Agencies]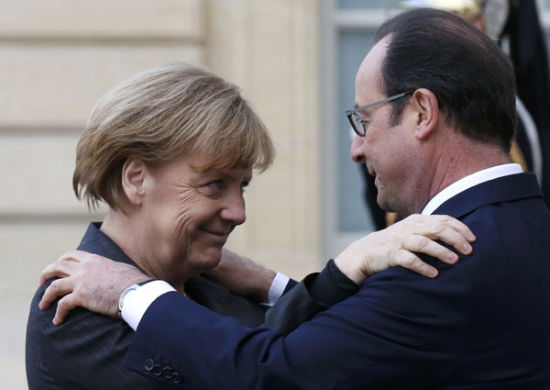 French President Francois Hollande (R) welcomes Germany's Chancellor Angela Merkel as she arrives at the Elysee Palace before the solidarity march (Rassemblement Republicain) in the streets of Paris January 11, 2015.[Photo/Agencies]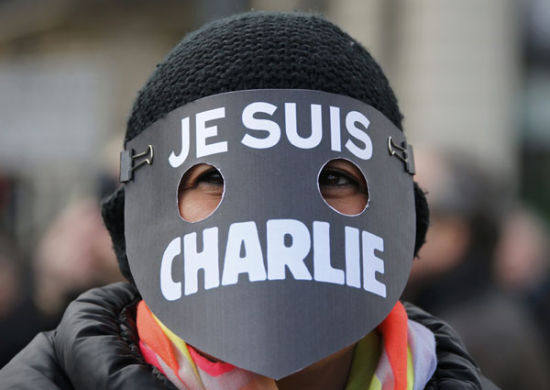 A women wearing a mask reading "I am Charlie" takes part in a solidarity march (Marche Republicaine) in the streets of Paris January 11, 2015.[Photo/Agencies]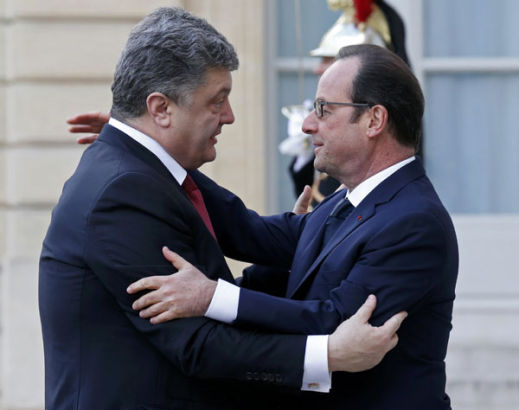 French President Francois Hollande (R) welcomes Ukrainian President Petro Poroshenko (L) at the Elysee Palace before attending a solidarity march (Marche Republicaine) in the streets of Paris January 11, 2015.[Photo/Agencies]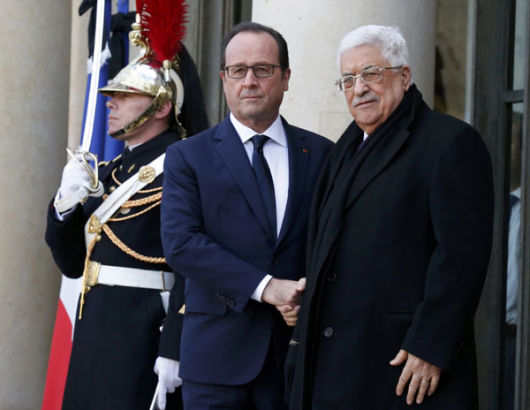 French President Francois Hollande (L) welcomes Palestinian President Mahmoud Abbas (R) at the Elysee Palace before attending a solidarity march (Marche Republicaine) in the streets of Paris January 11, 2015.[Photo/Agencies]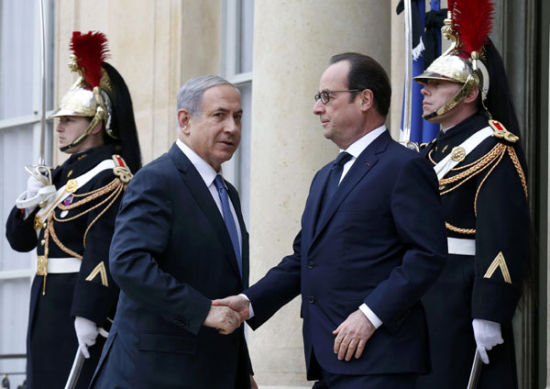 French President Francois Hollande (R) welcomes Israel's Prime Minister Benjamin Netanyahu (L) at the Elysee Palace before attending a solidarity march (Marche Republicaine) in the streets of Paris January 11, 2015.[Photo/Agencies]
PARIS - Dozens of world leaders joined hundreds of thousands of French citizens marching in Paris amid high security in an unpredecented tribute to victims of this week's Islamist militant attacks.
President Francois Hollande and leaders from Germany, Italy, Israel, Turkey, Britain and the Palestinian territories among others, moved off from the central Place de la Republique ahead of a sea of French and other flags. Giant letters attached to a statue in the square spelt out the word Pourquoi?" (Why?) and small groups sang the "La Marseillaise" national anthem.
Some 2,200 police and soldiers patrolled Paris streets to protect marchers from would-be attackers, with police snipers on rooftops and plain-clothes detectives mingling with the crowd. City sewers were searched ahead of the vigil and underground train stations around the march route are due to be closed down.
The silent march - which may prove the largest seen in modern times through Paris - reflects shock over the worst militant Islamist assault on a European city in nine years. For France, it raised questions of free speech, religion and security, and beyond French frontiers it exposed the vulnerability of states to urban attacks.
"Paris is today the capital of the world. Our entire country will rise up and show its best side," said Hollande in a statement.
Seventeen people, including journalists and police, were killed in three days of violence that began with a shooting attack on the satirical newspaper Charlie Hebdo on Wednesday and ended with a hostage-taking at a Jewish deli in which four hostages were killed.
Overnight, an illuminated sign on the Arc de Triomphe read: "Paris est Charlie" ("Paris is Charlie").
A video emerged featuring a man resembling the gunman killed in the kosher deli. He pledged allegiance to the Islamic State insurgent group. A French anti-terrorist police source confirmed it was the killer, Amedy Coulibaly, speaking before the action.
"We're not going to let a little gang of hoodlums run our lives," said Fanny Appelbaum, 75, who said she lost two sisters and a brother in the Nazi concentration camp at Auschwitz. "Today, we are all one."
Zakaria Moumni, a 34-year-old Franco-Moroccan draped in the French flag, agreed: "I am here to show the terrorists they have not won - it is bringing people together of all religions."
Among many children brought along to the march, Loris Peres, 12, said: "For me this is paying respect to your loved ones, it's like family ... We did a lesson about this at school."
German Chancellor Angela Merkel, British Prime Minister David Cameron and Italy Prime Minister Matteo Renzi were among 44 foreign leaders marching with Hollande. U.N. Secretary-General Ban Ki-moon, Israel's Benjamin Netanyahu - who earlier encouraged French Jews to emigrate to Israel - and Palestinian President Mahmoud Abbas were also present.
"(The march) will be an unprecedented demonstration that will be go down in the history books," Prime Minister Manuel Valls said.
The official estimate on attendance is due to be announced later. A 1995 protest against planned welfare cuts brought some 500,000-800,000 people onto the streets of the capital, while a 2002 rally against the far-right National Front's then leader Jean-Marie Le Pen afer he got into the run-off of that year's presidential election drew 400,000-600,000.
Twelve people were killed in Wednesday's initial attack on Charlie Hebdo, a journal know for satirising religions and politicians. The attackers, two French-born brothers of Algerian origin, singled out the weekly for its publication of cartoons depicting and ridiculing the Prophet Mohammad.
All three gunmen were killed in what local commentators have called "France's 9/11", a reference to the September 2001 attacks on US targets by al-Qaida.
Separately, a building of the newspaper Hamburger Morgenpost, which like many other publications has reprinted Charlie Hebdo cartoons, was the target of an arson attack and two suspects were arrested, police said on Sunday.
Turkish and French sources said a woman hunted by French police as a suspect in the attacks had left France several days before the killings and is believed to be in Syria.
French police had launched in an intensive search for Hayat Boumeddiene, the 26-year-old partner of one of the attackers, describing her as "armed and dangerous".
But a source familiar with the situation said Boumeddiene left France last week and travelled to Syria via Turkey. A senior Turkish official corroborated that account, saying she passed through Istanbul on Jan. 2.