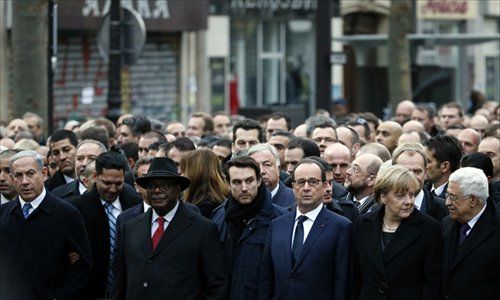 French President Francois Hollande, German Chancellor Angela Merkel and Palestinian President Mahmud Abbas take part in the Unity March in Paris on Sunday. Photos: AFP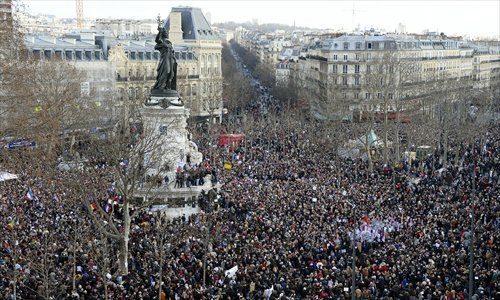 People gather on the Place de la Republique (Republic Square) in Paris before the start of the Unity March on Sunday in tribute to the 17 victims of a three-day killing spree by homegrown Islamists. Photos: AFP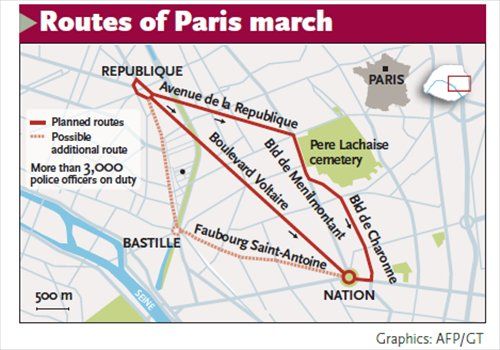 Graphics:AFP/GT
Dozens of world leaders joined a million-plus crowd of French citizens to march in Paris on Sunday in what analysts called "a symbol of unity" against rising Islamist militancy in Europe.
President Francois Hollande and leaders from Germany, Italy, Israel, Turkey, Britain and the Palestinian territories among others, moved off from the central Place de la Republique ahead of a sea of French and other flags. Giant letters attached to a statue in the square spelt out the word "Pourquoi?" (Why?) and small groups sang the "La Marseillaise" national anthem.
Some 2,200 police and soldiers patrolled Paris streets to protect marchers from would-be attackers, with police snipers on rooftops and plain-clothes detectives mingling with the crowd. City sewers were searched ahead of the vigil and underground train stations around the march route were closed down.
The march - which may prove the largest seen in modern times through Paris - reflected shock over the worst militant Islamist assault on a European city in nine years.
For France, it raised questions of free speech, religion and security, and beyond French frontiers it exposed the vulnerability of states to urban attacks.
"Paris is today the capital of the world. Our entire country will rise up and show its best side," said Hollande in a statement.
Seventeen people, including journalists and policemen, lost their lives in three days of violence that began with a shooting attack on the satirical newspaper Charlie Hebdo on Wednesday and ended with a hostage-taking at a kosher supermarket on Friday. The three gunmen were also killed.
French interior minister Bernard Cazeneuve hosted a meeting on Sunday morning of fellow interior ministers from across Europe, including the UK's Theresa May, to discuss counter-terrorism measures in the wake of the Charlie Hebdo attack.
US Attorney General Eric Holder announced after the meeting that US President Barack Obama will invite allies to a February 18 security summit in Washington.
Zhang Shengjun, an international politics professor with Beijing Normal University, believes the rally, the largest public demonstration against terrorism in years, serves as a political symbol to unite Europe against terrorism and extremism.
"In wake of the Charlie Hebdo attack, the European community has come to realize that the threat of terrorism has drawn closer than ever. The rally is served as a psychological compensation as they show solidarity against terrorist attacks," Zhang told the Global Times.
It is also hoped that the rally will influence public opinion to pave the way for future amendments of anti-terror and immigration laws, Zhang said.
Wang Guoxiang, an anti-terrorism expert at the Beijing Academy of Social Sciences, said the high level of trust among the EU allies has made anti-terrorism efforts and intelligence sharing more effective, but he remains skeptical towards the additional benefits such rally or meeting could bring about.
"These [rally and meeting] are only gimmicks. They will not solve the real problems that Europe is currently facing, such as immigration and the rise of terror groups from the Middle East," Wang told the Global Times on Sunday.
To prevent increasing penetration of extremism and terrorism in Europe, governments need to address more deep-rooted social and economic issues among immigrants, said Wang.
A video emerged Sunday featuring a man resembling the gunman killed in the kosher deli. He pledged allegiance to the Islamic State insurgent group and urged French Muslims to follow his example. A French anti-terrorist police source confirmed it was the killer, Amedy Coulibaly, speaking before the action.
French police have launched an intensive search for Hayat Boumeddiene, the 26-year-old partner of one of the attackers, describing her as "armed and dangerous."
But a source familiar with the situation said Boumeddiene left France last week and travelled to Syria via Turkey. A senior Turkish official said she passed through Istanbul on January 2.
Wang also said that Europe's weak border control has made it vulnerable for terrorists who can travel freely across European borders.
"The attack is likely to spark a right-wing backlash in Europe," Wang noted, adding that the sluggish world economy is likely to trigger an anti-immigration wave across the continent, as immigrant communities will be blamed for Europe's social and economic problems.
Separately, German newspaper Hamburger Morgenpost became the latest target in an arson attack on Sunday in its office building. Two suspects were arrested.
Hamburger Morgenpost has reprinted cartoons of French satire magazine Charlie Hebdo after the deadly attack that took place on Wednesday in Paris.