Singapore former PM Lee Kuan Yew passes away at age of 91
2015-03-22 23:19:50 GMT
2015-03-23 07:19:50(Beijing Time)
Xinhua English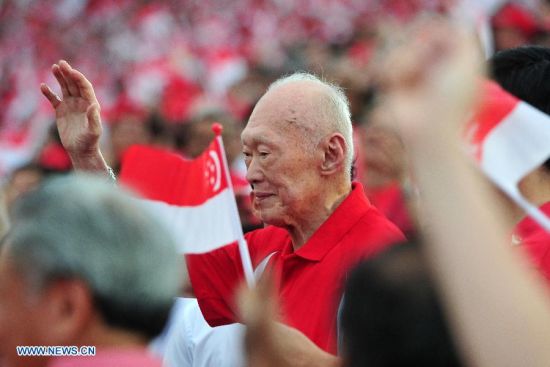 File photo taken on Aug. 9, 2013 shows Lee Kuan Yew attending the National Day Parade at the Float Marina Bay in Singapore. Singapore's former Prime Minister Lee Kuan Yew died at 3:18 a.m. local time at age of 91 in Singapore, March 23, 2015. (Xinhua/Then Chih Wey)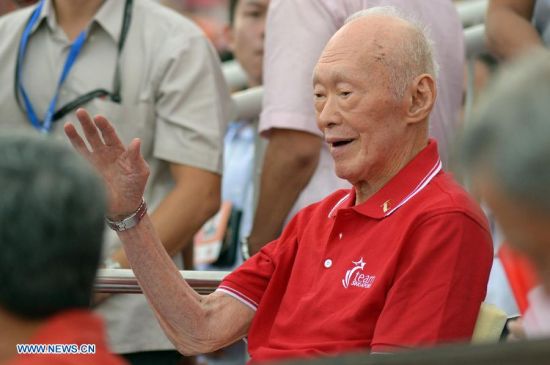 File photo taken on Aug. 9, 2014 shows Lee Kuan Yew greeting the audience during the 49th National Day Parade in Singapore. Singapore's former Prime Minister Lee Kuan Yew died at 3:18 a.m. local time at age of 91 in Singapore, March 23, 2015. (Xinhua/Then Chih Wey)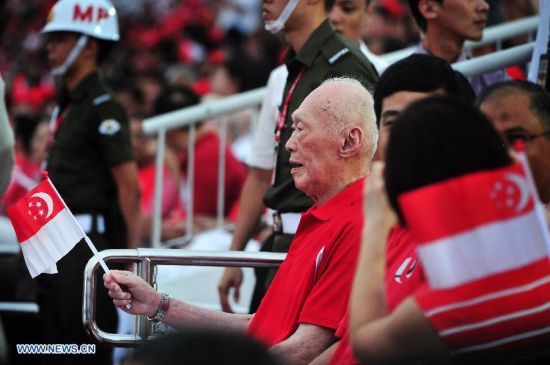 File photo taken on Aug. 9, 2013 shows Lee Kuan Yew attending the National Day Parade at the Float Marina Bay in Singapore. Singapore's former Prime Minister Lee Kuan Yew died at 3:18 a.m. local time at age of 91 in Singapore, March 23, 2015. (Xinhua/Then Chih Wey)
SINGAPORE, March 23 (Xinhua) -- Lee Kuan Yew, former prime minister of Singapore, died at 3:18 am on Monday at the age of 91, according to a statement released by the Prime Minister's Office ( PMO) on Monday.
Lee passed away "peacefully", the statement said.
Lee had been in hospital for severe pneumonia since Feb. 5. PMO said his condition was "slightly improved" on Feb. 28, but worsened due to an infection on March 17. His condition had hence remained "critically ill" until PMO issued a statement at noon on Saturday, saying that his condition had again "worsened".
His ill health had prevented him from attending public and constituency events in recent months. His latest appearances were at the People's Action Party's 60th anniversary celebrations in November last year and his constituency's Tree Planting Day earlier the same month.
As a MP for Tanjong Pagar GRC (Group Representation Constituency), he also attended Tanjong Pagar GRC's National Day dinner in August 2014.
Lee, also known as Singapore's founding father, was born in September 1923. He served as the prime minister of Singapore from 1959 to 1990, and later served as a senior minister and minister mentor after stepping down from the first chair.