3 survivors reported in Havana plane crash, 104 passengers on board
2018-05-19 03:09:32 GMT
2018-05-19 11:09:32(Beijing Time)
Xinhua English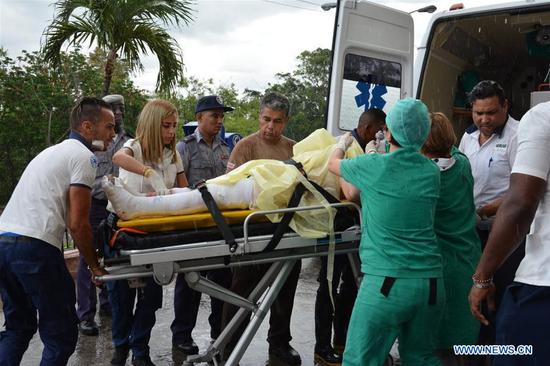 HAVANA, May 18 (Xinhua) -- At least three people have been found alive, but in critical condition, after a Boeing 737 passenger plane crashed near Havana on Friday, according to state newspaper Granma.
The report said hospitals in the city were preparing to receive survivors from the crash.
An earlier statement broadcast on the national TV said the plane had 104 passengers on board, when it was taking off from Havana's Terminal 1 toward the eastern city of Holguin, some 750 km east of the capital.
According to the TV report, the accident happened immediately outside the airport, with the plane crashing into a field near the town of Santiago de las Vegas.
Roberto Pena, president of the Cuban Aviation Corporation, said that the cause of the accident remained unknown, adding an investigation had begun and Havana's Jose Marti International Airport remained in full operation.
President Miguel Diaz-Canel, high-ranking officials from the Communist Party of Cuba and police, firefighters and emergency rescue personnel are at the scene.