Cuban leader visits plane crash survivors, relatives of victims
2018-05-20 01:12:33 GMT
2018-05-20 09:12:33(Beijing Time)
Xinhua English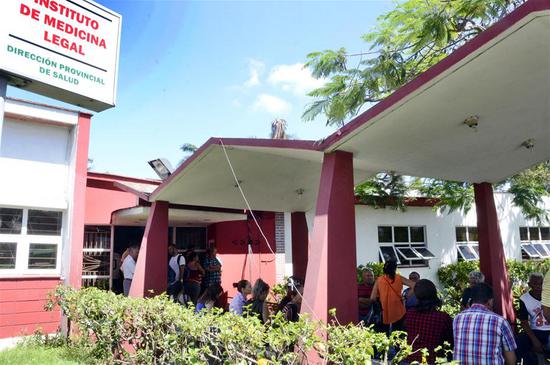 Relatives of the victims of the airplane crash wait in the Institute of Legal Medicine of Havana in Havana, Cuba, on May 19, 2018. Cuba confirms here on Saturday that 110 were dead from Friday's Boeing 737 crash close to Havana's Jose Marti International Airport. (Xinhua/Joaquin Hernandez)
HAVANA, May 19 (Xinhua) -- Cuban President Miguel Diaz-Canel on Saturday visited the survivors and relatives of the victims of Friday's plane crash, which saw 110 people killed when the Cubana airlines flight plummeted to the ground and burst into flames.
The Boeing 737, which was rented from Mexican airline Damojh, was carrying 113 people at the time of the accident, Transportation Minister Adel Yzquierdo said at a press conference on Saturday.
Diaz-Canel visited the three women who survived, but were in serious condition and receiving treatment at the Calixto Garcia Hospital in Havana, according to a national television news broadcast.
The president also met with the relatives of the victims as they arrived at the Forensics Institute in Havana to help identify their loved ones.
Authorities are investigating what went wrong with the domestic flight, which crashed shortly after taking off from Havana's main airport on its way to the eastern province of Holguin.
The Cuban government arranged for the relatives to stay at a hotel, as most came to Havana from Holguin, some 700 kilometers east of Havana.
Flags were flying at half mast on Saturday as part of two days of mourning following the worst air disaster in Cuba in three decades.
Witnesses told Xinhua the plane zigzagged as it was taking off, then crashed at 12:08 p.m. local time (16:08 GMT) just a kilometer away in an agricultural field.
Forensic experts continue to sift through the rubble.
Mexico's Civil Aviation Agency was expected to send a team of specialists to Cuba on Saturday to help with the investigation.
Cubana operated the aircraft under a wet lease arrangement, meaning it came with a flight and maintenance crew, usually including two pilots, three flight attendants and a technician.
Built in 1979, the plane passed its last inspection in November 2017, Mexican officials said.