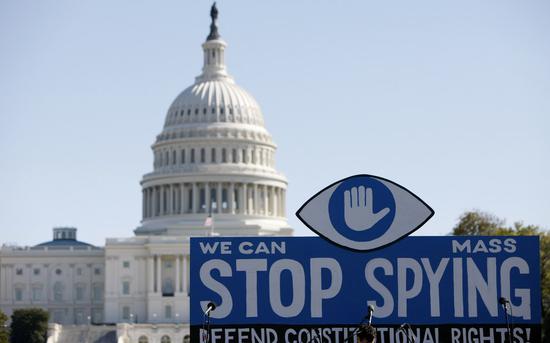 File photo taken on Oct. 26, 2013 shows a huge slogan board stands in front of the U.S. Capitol building during a protest against government surveillance in Washington D.C., the United Sates. (Xinhua/Fang Zhe)
BEIJING, June 3 (Xinhua) -- Big Brother is watching Europe and has been for years, and those prying eyes have haunted the continent's relationship with the United States.
In recent years, various surveillance projects implemented by the United States have been exposed one after the other, and most of them are carried out by the U.S. National Security Agency (NSA), in addition to the Central Intelligence Agency (CIA).
Recent reports of U.S. spying on European politicians including German Chancellor Angela Merkel from 2012 to 2014 with the help of Danish intelligence have provided yet more evidence of America's pervasive and ubiquitous monitoring of the world.
Across Europe, eyebrows are being raised before U.S. President Joe Biden's first visit to the continent since he took office. The disgraceful eavesdropping reports cry out for a thorough investigation and clear explanation from the United States to soothe its spooked and indignant allies.
NSA & CIA
The allegations of spying come as Danish broadcaster DR reported on Sunday that the Danish Defense Intelligence Service had given the NSA open internet access to spy on senior politicians of neighboring countries, including Merkel.
The NSA has purposefully obtained data and thus been able to clandestinely spy on targeted heads of state, as well as neighboring Scandinavian leaders, top politicians, and high-ranking officials in Germany, Sweden, Norway, and France from 2012 to 2014, according to DR.
Denmark's Prime Minister Mette Frederiksen on Wednesday declined to comment on the media report, saying that there should be no systematic monitoring of allies, echoing an earlier statement by the country's defense minister.
"I don't think it is correctly stated that there is a need to restore relations with France or Germany. We have an ongoing dialogue, and we have it in the intelligence field," she told local media Ritzau.
It seems like deja vu all over again for both the NSA and Merkel.
In 2013, former NSA contractor Edward Snowden revealed that the NSA was listening in on German government phone lines, including Merkel's.
The shocking revelations have then ignited worries across the world that the powerful U.S. surveillance network, if unconstrained, would possibly pose serious threats to global citizens' privacy and personal freedom.
Germany is a close ally of the United States. When those allegations were made, the White House gave no outright denial but said Merkel's phone was not being bugged at the time and would not be in the future.
In addition to the NSA, the United States has the CIA, another major intelligence agency in the country capable of exploiting vulnerabilities in mobile phones, computers and smart TVs.
In 2017, WikiLeaks published what it described as the "biggest ever leak of secret CIA documents" detailing the tools it uses to break into phones, communication apps and other electronic devices.
According to the documents, the CIA attack team did the following: hacked network routers; hacked smart TVs and fake-shut them down to eavesdrop; hacked smart vehicle control systems to perform assassinations; developed attack tools against Apple phones and Google Android systems; and intruded on operating systems such as Microsoft Windows, Apple OS X and Linux.
ANGRY & WORRIED EUROPE
Following DR's revelations, European countries immediately issued censure on Washington, and urged the world's sole superpower to explain itself as soon as possible.
France and Germany have deplored the alleged spying as "unacceptable," and demanded "full clarity" from the U.S. side. French President Emmanuel Macron on Monday called for "complete transparency and resolution of the matter by our Danish and American partners."
In response, Merkel said she "could only agree" with Macron's comments, adding she was "reassured" by Danish Minister of Defense Trine Bramsen's condemnation of any such spying.
In Paris, French Minister for European Affairs Clement Beaune told France Info radio that the DR report needed to be checked and that, if confirmed, it would be a "serious" matter.
"These potential facts, they are serious. They must be checked," he said, adding there could be "some diplomatic protests."
"It is extremely serious, we need to see if our partners in the EU, the Danes, have committed errors or faults in their cooperation with American services," he noted.
Jens Holm, a member of the Swedish Parliament, called for an investigation into "who exactly was monitored, when and how."
"This is extremely outrageous," Holm told local media, adding that the situation elicits memories of the Cold War.
NATO Secretary General Jens Stoltenberg on Wednesday called for an investigation into the spying scandal.
"The nations involved in the case are NATO allies and must put all the facts on the table and find out what actually happened," he told DR.
In fact, the latest eavesdropping is just one of a series of U.S. espionage scandals, both domestic and overseas, the most notorious one of which was the Prism Project revealed by Snowden in 2013. Under the project, the NSA accessed emails, documents, photographs, and other sensitive user data stored at big companies.
Such waves of U.S. spying, even on its own allies, have not only outraged people across the world, but also sparked widespread concerns in the international community as to what extent the United States has built its empire of hacking and wiretapping and how it could ensnare Europe.
Swedish Minister of Defense Peter Hultqvist said on state broadcaster SVT on Sunday that he "asked to be fully informed about matters concerning Swedish citizens, companies and interests."
"And then we have to see how the answer sounds from a political side in Denmark," Hultqvist said, adding that he had been "in contact with Denmark's defense minister to ask if Danish platforms have been used to spy on Swedish politicians."