Voters display ink-stained fingers after casting ballots in Cambodia's election
2018-07-29 04:57:46 GMT
2018-07-29 12:57:46(Beijing Time)
Sina English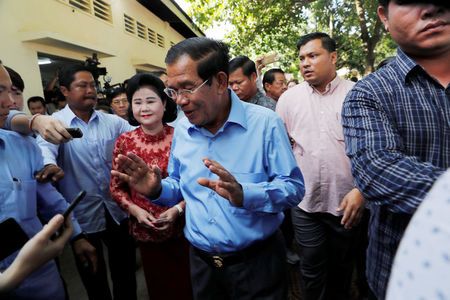 Cambodia's Prime Minister and President of the Cambodian People's Party (CPP) Hun Sen leaves after voting during a general election in Takhmao, Kandal province, Cambodia July 29, 2018. REUTERS/Darren Whiteside
Voters headed to the polls in Cambodia on Sunday in an election Prime Minister Hun Sen is expected to easily win, extending his 30-plus years in power, after the main opposition party was dissolved.
Nineteen political parties are running against Hun Sen's ruling Cambodian People's Party (CPP).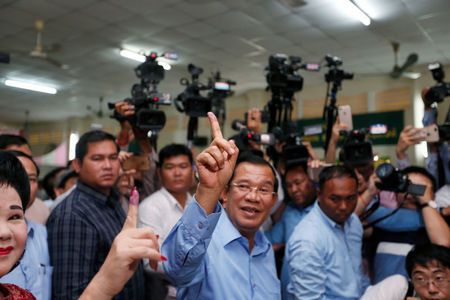 Cambodia's Prime Minister and President of the Cambodian People's Party (CPP) Hun Sen and his wife Bun Rany show their stained fingers at a polling station during a general election in Takhmao, Kandal province, Cambodia July 29, 2018. REUTERS/Samrang Pring
Ros Vireak, 34, emerged from a polling booth in Phnom Penh's city center, where 12 parliamentary seats are up for grabs, with his finger stained in ink to show that he had voted.
"I don't see any problem with this election. As a citizen, I fulfilled my obligation to vote," Ros Vireak said. He declined to say who he voted for.
Voting is not mandatory, but authorities have warned that anyone who boycotts the vote will be seen as a "traitor".
Hun Sen, a former Khmer Rouge commander who eventually defected from Pol Pot's regime, is the world's longest serving prime minister.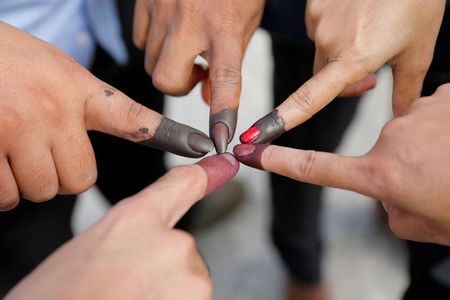 Cambodian voters take pictures of their ink stained fingers after they voted, outside a polling station during a general election in Phnom Penh, Cambodia July 29, 2018. REUTERS/Darren Whiteside
Agencies