Some 4,000 Palestinians participate in "Nakba Day" Gaza protests
2018-05-16 01:57:34 GMT
2018-05-16 09:57:34(Beijing Time)
Xinhua English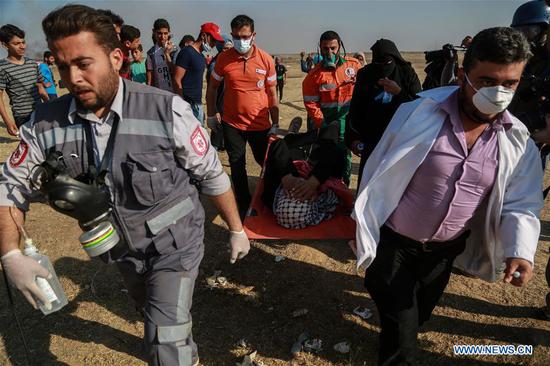 Palestinians carry an injured man during clashes with Israeli troops near the Gaza-Israel border, east of Gaza City, on May 15, 2018. Some 4,000 Palestinians Tuesday participated in the protests along the Gaza Strip border at five locations, said the Israeli army. The protests marked the "Nakba Day," which means catastrophe, referring to the displacement of hundreds of thousands of Palestinians in the war surrounding the creation of Israel in 1948. (Xinhua)
JERUSALEM, May 15 (Xinhua) -- Some 4,000 Palestinians Tuesday participated in the protests along the Gaza Strip border at five locations, said the Israeli army.
Tuesday's protests marked the "Nakba Day," which means catastrophe, referring to the displacement of hundreds of thousands of Palestinians in the war surrounding the creation of Israel in 1948.
Israeli media reported that during the "Nakba Day" protests, two Palestinians were killed and over 160 others injured.
On Monday, about 40,000 Palestinians took part in demonstration along the Gaza border and clashed with Israeli troops. The Hamas-run health ministry sources said since Monday, at least 62 Palestinians were killed and more than 2,700 injured during protests at the security fence against the opening of the U.S. embassy in Jerusalem.
The Israel Defense Forces (IDF) said in a statement issued on Tuesday that Palestinians threw rocks and Molotov cocktails at soldiers, and burned tires at the border with the intention of igniting fires in Israel and harming Israeli forces.
The IDF troops responded to the riot with dispersal means and fired live rounds selectively, said the Israeli army.
The Palestinian Authority news site Wafa reported that both private and public sector institutions in the West Bank and the Gaza Strip observed a general strike on Tuesday for the "Nakba Day."
"Violent riots" took place in 14 locations throughout Judea and Samaria, with the participation of about 700 Palestinians, said the Israeli army.