25 Palestinian protesters injured in clashes with Israeli soldiers in eastern Gaza
2018-05-26 10:58:31 GMT
2018-05-26 18:58:31(Beijing Time)
Xinhua English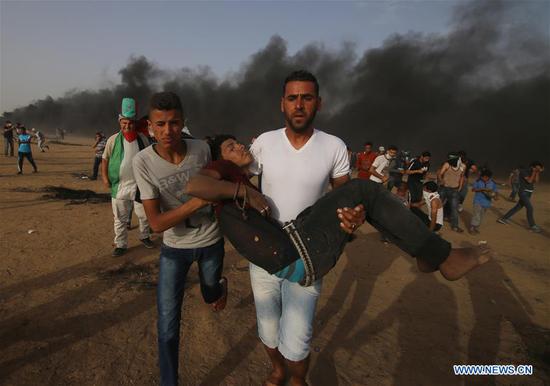 Palestinian protesters carry a wounded person during clashes with Israeli troops near the Gaza-Israel border, east of Khan Younis, southern Gaza Strip, on May 25, 2018. At least 25 Palestinian protesters were injured on Friday during clashes with Israeli soldiers along Gaza's eastern border with Israel, the health ministry in Gaza said. (Xinhua/Khaled Omar)
GAZA, May 25 (Xinhua) -- At least 25 Palestinian protesters were injured on Friday during clashes with Israeli soldiers along Gaza's eastern border with Israel, the health ministry in Gaza said.
The Israeli army has killed 115 Palestinians, after 24-year-old Sami Habib from Gaza City died of his wounds earlier in the day, and wounded around 13,000 others since March 30, the first day of the "Great March of Return" rally, Ashraf al-Qedra, spokesman of the health ministry, told reporters.
The Highest Commission of the Great March of Return called the 9th anti-Israel Friday rally "Carry on Despite Blockade."
Yehya Sinwar, Hamas chief in the Gaza Strip, called for a mass protest on June 5, the anniversary of the Six-Day War in 1967 when Israel occupied the West Bank and Gaza.
A day earlier, Hamas and Islamic Jihad leaders said the protests in eastern Gaza will carry on until the Israeli blockade, which has been imposed on the coastal enclave for 11 years, is removed.