42nd Cairo int'l film gala welcomes participation of Chinese film
2020-12-04 04:27:45 GMT
2020-12-04 12:27:45(Beijing Time)
Xinhua English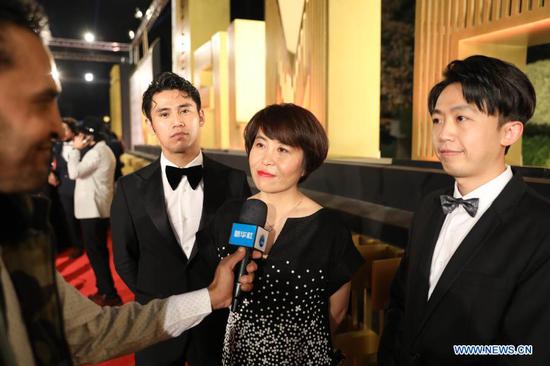 Chinese filmmaker Cao Jinling (C) speaks during an interview with Xinhua on the red carpet at the Cairo International Film Festival in Cairo, Egypt, on Dec. 2, 2020. China joins in the ongoing 42nd Cairo International Film Festival (CIFF) with its film Anima as the Chinese film industry wins praise from participants of the festival. The 120-minute Anima, which was written and directed by Chinese filmmaker Cao Jinling, tackles man's relationship with nature via a dramatic plot rising from a family hunting trip where a brother has to rescue his younger brother who falls into a bear cave by killing the mother bear. (Xinhua/Ahmed Gomaa)
CAIRO, Dec. 3 (Xinhua) -- China joins in the ongoing 42nd Cairo International Film Festival (CIFF) with its film Anima as the Chinese film industry wins praise from participants of the festival.
"The Chinese cinema is strongly present whether commercially or at the level of film festivals, and we're proud to have a Chinese movie making its world premiere at CIFF," said Mohamed Hefzy, the festival's president, on the red carpet during the opening ceremony of the CIFF on Wednesday evening at Egypt's Cairo Opera House.
The 120-minute Anima, which was written and directed by Chinese filmmaker Cao Jinling, tackles man's relationship with nature via a dramatic plot rising from a family hunting trip where a brother has to rescue his younger brother who falls into a bear cave by killing the mother bear.
"In all big international film festivals such as Cannes, Venice and Berlin, we look forward to watching a Chinese film because it always gives us pleasant surprises and offers a massive creative value," said film critic Tarek el-Shinnawy, who is also a member of the festival's higher advisory committee.
"The Chinese cinema has its own uniqueness, mark and impress, which is anticipated by all those interested in the industry across the world," Shinnawy added.
Cao, who attended the opening ceremony of Cairo's international film gala, expressed her happiness that her film will make its world premiere in the Arab world's big festival.
"We spent more than four years shooting our movie, the toughest period of which was this year. But in the end, we managed to finish all the post-production and we are so happy to be chosen by this festival," the Chinese filmmaker told Xinhua.
"China has always been a country of culture, heritage, history and modernity, and these are also characteristics of the CIFF," said Madeleine Tabar, a Lebanese actress, who also showed up at the CIFF opening ceremony.
Running from Dec. 2 to 10, the 42nd CIFF, with the participation of over 200 Egyptian and foreign movie stars and filmmakers, was inaugurated by the Egyptian Minister of Culture Inas Abdel-Dayem and attended by several other Egyptian officials including the ministers of tourism and information.