Death toll from cyclone in Malawi may hit 1,000
2023-03-22 12:21:02 GMT
2023-03-22 20:21:02(Beijing Time)
Sina English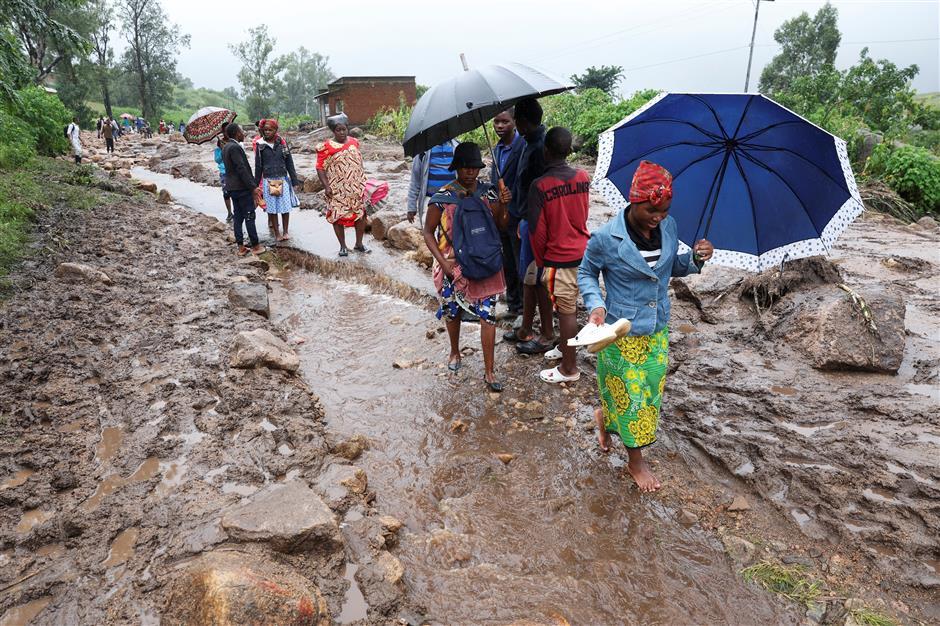 Reuters
Locals in the Chiradzulu district walk through a flooded road after mudslides and rockfalls in the area caused by the aftermath of Cyclone Freddy in Blantyre, Malawi, in this file photo.
The death toll from Tropical Cyclone Freddy in Malawi is likely to reach 1,000 as more bodies are being recovered and many are still reported missing, according to the country's Department of Disaster Management Affairs.
As of Tuesday evening, the cumulative number of recovered bodies reached 507 from 499 as reported Monday, with the number of missing persons rising from 427 to 537 and the number of injured remaining at 1,332.
The number of displaced people has increased from 508,244 to 553,614, and nine more camps were set up to accommodate them, bringing the total camps to 543.
Search and rescue operations continued as the Malawi Defence Force and the Malawi Police Service teamed up with the British, Zambian, and Tanzanian experts across the affected areas.
More humanitarian aid and support were pouring in from neighboring countries, the United Nations, and other international and local organizations as well as individuals, said local authorities.