BRICS foreign ministers meeting opens in South Africa
2023-06-02 01:00:25 GMT
2023-06-02 09:00:25(Beijing Time)
Sina English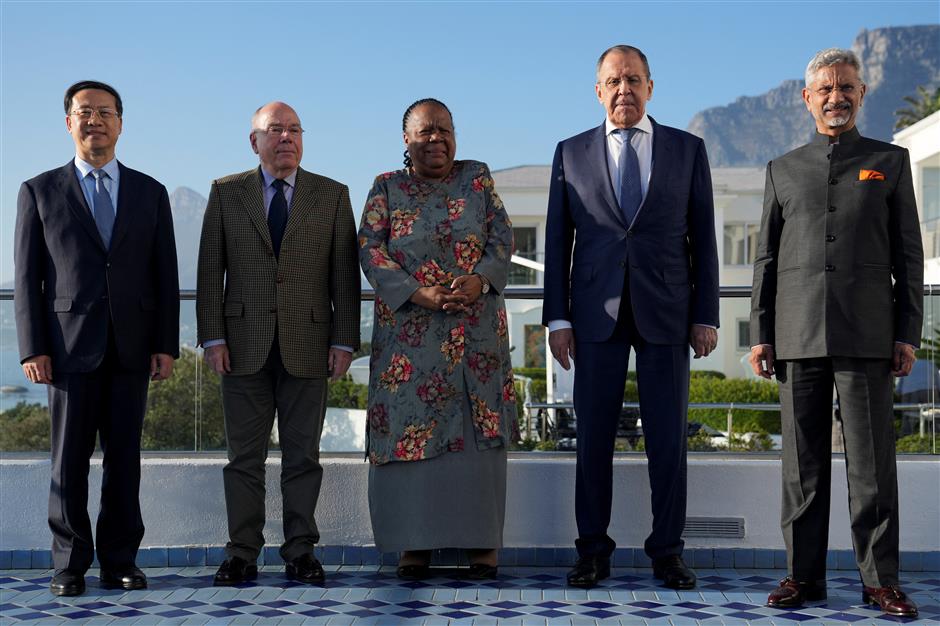 Reuters
(From left to right) China's Vice Foreign Minister Ma Zhaoxu, Brazil's Foreign Minister Mauro Vieira, South Africa's Foreign Minister Naledi Pandor, Russia's Foreign Minister Sergei Lavrov and India's Foreign Minister Subrahmanyam Jaishankar attend a BRICS foreign ministers' meeting in Cape Town, South Africa, on June 1, 2023.
BRICS countries kicked off its foreign ministers meeting on Thursday in Cape Town, the legislative capital of South Africa.
"At today's discussion, we will focus on opportunities to strengthen and transform global governance systems and look forward to solutions to sustainable and inclusive global economic recovery," said Naledi Pandor, South Africa's minister of international relations and cooperation, when hosting the meeting.
"This year's BRICS summit will be held in Johannesburg," Pandor said, noting that the theme of the summit is "BRICS and Africa: Partnership for Mutually Accelerated Growth, Sustainable Development and Inclusive Multilateralism."
The global geopolitical situation will be discussed throughout the meeting's four sessions, South Africa's BRICS Sherpa Anil Sooklal said at a media briefing ahead of the meeting.
BRICS is the acronym for an emerging-market bloc that groups Brazil, Russia, India, China and South Africa. South Africa assumed the BRICS presidency on January 1, 2023, taking over from China.