Iraq's traditional museum reopens amid easing of COVID-19 restrictions
2020-10-30 03:19:06 GMT
2020-10-30 11:19:06(Beijing Time)
Xinhua English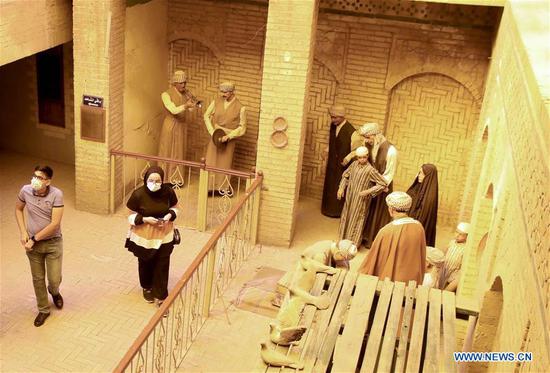 People wearing masks visit the al-Baghdadi Museum in Baghdad, Iraq, Oct. 21, 2020. The traditional al-Baghdadi Museum was reopened to visitors recently, about six months after its closure amid the coronavirus pandemic in Iraq. Located in an old building near the Tigris River, the museum is one of Baghdad's important cultural heritage and tourist landmarks, offering a nostalgic journey into the past daily life of the Iraqi capital through scenes featuring life-size wax models. (Xinhua)
BAGHDAD, Oct. 29 (Xinhua) -- The traditional al-Baghdadi Museum was reopened to visitors recently, about six months after its closure amid the coronavirus pandemic in Iraq.
Located in an old building near the Tigris River, the museum is one of Baghdad's important cultural heritage and tourist landmarks, offering a nostalgic journey into the past daily life of the Iraqi capital through scenes featuring life-size wax models.
The COVID-19 pandemic has greatly affected the Iraqi tourism sector by closing many cultural and traditional landmarks nationwide.
"After easing restriction measures, we focus on protecting staff and visitors by maintaining social distancing, and our tourist guides direct visitors to wear masks and gloves and to use sanitizers," Basim al-Anzi, head of tourism and cultural affairs in Baghdad Municipality, told Xinhua.
Al-Baghdadi Museum was damaged during the U.S.-led invasion of Iraq in 2003. During the anti-virus lockdown period, the municipal government prepared a plan to renovate the museum, according to al-Anzi.
From crafts, trades, professions, local customs to street life, the museum demonstrates traditional customs and the old lifestyle in Baghdadm, such as afternoon tea gatherings, baking bread, and grilling fish.
"When the health restriction measures were eased, we returned to our normal life with caution," Sajad Ali, a young visitor said.
"We come to the museum to see our heritage and things we have not seen nowadays," Ali added.