4 left dead after rampage in central Japan, city assembly chief's son arrested
2023-05-26 05:20:15 GMT
2023-05-26 13:20:15(Beijing Time)
Sina English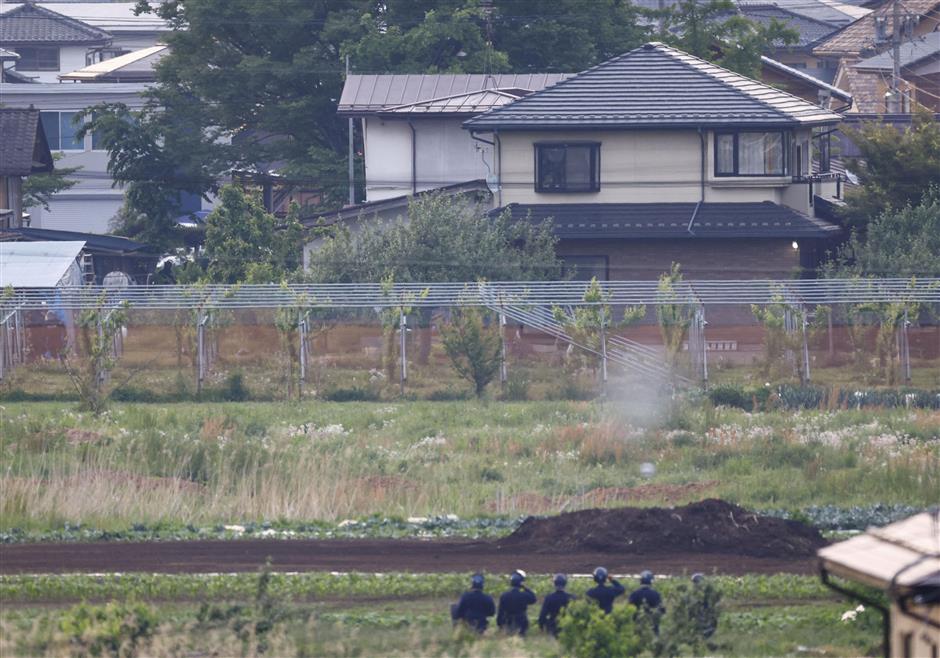 Reuters
Police officers surround the scene of a stabbing and shooting incident in Nakano, Nagano Prefecture, central Japan, in this photo taken by Kyodo on May 26, 2023.
The son of a city assembly chief in central Japan was arrested by police on Friday on suspicion of killing four people, including two police officers, in a shocking stabbing and shooting rampage, local police said.
The suspect, Masanori Aoki, 31, the eldest son of Masamichi Aoki, speaker of the city assembly in Nakano, Nagano Prefecture, was finally arrested at around 4:40am local time on Friday, after police were alerted to an incident at 4:30pm local time on Thursday in which a man had stabbed a woman.
The man proceeded to open fire on officers when they arrived at the scene with what is believed to be a hunting rifle, killing two officers, with another woman who was at the scene later being pronounced dead, according to local media reports.
The suspect dressed in camouflage, a hat and a mask, fled the scene of the fatal attacks, local media said, and barricaded himself in what was later confirmed to be his father's house.
Two women, including the suspect's mother, managed to escape from the house, local media said. The 57-year-old assembly chief has also been confirmed to be safe.
Last year, there were nine gun-related incidents that lead to four people being killed reported nationwide, Japan's public broadcaster NHK said, stating that gun crime in Japan is rare.